Fort Myers Personal Injury Attorneys Seek Justice
The Spivey Law Firm, Personal Injury Attorneys, P.A., represents victims of automobile accidents, DUI accidents, pedestrian accidents, defective products, child injuries, and slip and fall accidents. Our knowledgeable Fort Myers personal injury lawyers have extensive experience in handling all types of personal injury cases and obtaining settlements and verdicts on behalf of victims who have suffered losses due to the negligent acts of other people and corporations.
We have successfully advocated for hundreds of clients in personal injury and wrongful death cases and secured millions of dollars in compensation due from those responsible for their losses. Our vast resources, network of experts, and years of experience in a broad range of personal injury cases render us particularly well-suited to represent your interests. Contact our Fort Myers personal injury lawyers today and learn how we can help you achieve justice in your case.
Have a Fort Myers Personal Injury Lawyer Pursue Your Auto Accident Case
Fatal car accidents have declined in recent years, probably due to the increase in safety technology. However, the most recent data available from the National Highway Traffic Safety Administration places Lee County, Florida in the top ten counties in the state with the most fatal car accidents in the five-year period from 2005 – 2009. From a high of 150 fatal car accidents in 2005 to a near-low of 80 fatal car accidents in 2009, it is clear that we are still seeing many victims of car accidents in our community. While not all of these cases are due to the errors or negligence of others, many of them were caused by another person's careless, or reckless acts. These types of cases may give rise to a personal injury or wrongful death claim with which a Fort Myers personal injury lawyer can assist.
Contact a Fort Myers Personal Injury Attorney Today
If you or a loved one has sustained severe injuries or loss of life in an auto accident or other type of accident that was caused by the negligence of another, you may be entitled to compensation for your losses. Potentially compensable damages include pain and suffering, medical bills and loss of income, both of which are recoverable through a personal injury lawsuit. Our experienced Fort Myers personal injury lawyers can assist you in the complex process of filing a personal injury or wrongful death claim. Retain an attorney to help with investigating the accident, drafting the appropriate documentation, appearing on your behalf in court, retaining the necessary experts, and negotiating a settlement. Contact the Spivey Law Firm, Personal Injury Attorneys, P.A., today by phone or by completing our online form to set up a free consultation and explore the options that may be available to you in your case.
About Fort Myers
Well-known for its beaches, shopping, and fishing, Fort Myers is also home to the Thomas Edison and Henry Ford winter estates, which now serve as museums honoring two of the nation's most famed inventors and businessmen. Downtown Fort Myers, also known as the River District, is a bustling metropolis featuring shopping outlets, outdoor malls and an entertaining nightlife, as well as historically preserved buildings and landmarks. Fort Myers also boasts a children's museum and aquarium, the Southwest Florida Museum of History and other attractions that offer fun and adventure for the family.
Fort Myers Beach is a safe, family-friendly beach along the Gulf Coast, full of splendid resorts and plenty of recreational opportunities, such as sailing, fishing, and boating.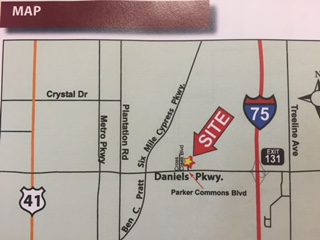 The Spivey Law Firm, Personal Injury Attorneys, P.A. is located at:
13400 Parker Commons Blvd.
Fort Myers, Florida 33912
Spivey Law Firm, Personal Injury Attorneys, P.A. is located off Daniels Parkway, between Six Mile Cypress Parkway and I-75 in Parker Commons. Parker Commons is adjacent to Cross Creek Country Club and across the street from Church of the Cross.
Lee: (239) 337-7483
Collier: (239) 793-7748
Charlotte: (941) 764-7748
Toll Free: (888) 477-4839
Fax: (239) 337-7484
Email: randall@spiveylaw.com
The Spivey Law Firm Websites:
SpiveyLaw.com
HurtByDrunkDriver.com