Representing Motorcycle Injury Victims Throughout Florida
The Spivey Law Firm, Personal Injury Attorneys, P.A., helps numerous victims each year who suffer injury or death in motorcycle accidents due to the negligent acts of another. Randall Spivey is a Fort Myers motorcycle accident attorney with a long history of representing the victims of motorcycle accidents across the Fort Myers, Naples, Cape Coral, and Port Charlotte area and throughout the state of Florida. He prides himself on providing legal representation to motorcycle injury victims and their surviving family members.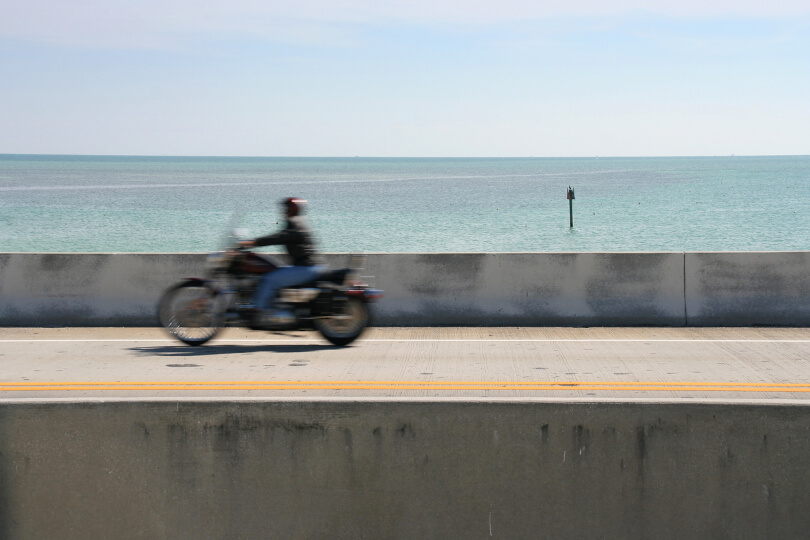 Danger on the Roads: Motorcyclists at Risk of Injury and Death
All too often, we see the catastrophic results of motorcycle accidents through the injury victims we represent. Most motorcycle crashes are not the fault of the operator. What's worse is that most of these types of incidents can be avoided if other drivers use more caution while on the road.
The majority of motorcycle accidents that result in injury or death involve another vehicle. Since other cars, trucks, and semis are much larger and offer more protection to their occupants than motorcycles, motorcyclists are at a distinct disadvantage. In many cases, if the driver of the other vehicle involved in the accident simply would have looked twice before pulling out onto the road or exercised more caution, the incident would not have occurred.
Careless drivers often forget two very important rules of the road: "Look twice and save a life," and "watch out - motorcycles are everywhere." When drivers of other vehicles fail to exercise due care, serious injuries, and fatalities to motorcycle riders are more likely to occur.

As an experienced Fort Myers motorcycle accident attorney, Randall L. Spivey leverages the special laws and protections that apply to motorcycle accident cases in Florida to help victims obtain compensation. These laws enable injured parties to recover damages, including:

•    Pain and suffering
•    Loss of enjoyment of life
•    Long and short-term medical care expenses
•    Lost wages 

Contact a Fort Myers Motorcycle Accident Attorney for Help Today
If you or a loved one is injured or killed in a motorcycle accident in Florida, contact the Spivey Law Firm, Personal Injury Attorneys, P.A. today to schedule a free consultation with an experienced Fort Myers motorcycle accident attorney. You pay no fees or costs unless you win a settlement or verdict in your favor. In other words, you will pay no money upfront when you retain our services to assist you with your case. Please visit our settlements and verdicts page to view the results we have achieved in Florida motorcycle accident cases and other cases handled by our firm. 
Motorcycle Safety Information
Where Do Most Motorcycle Accidents Happen?  
Motorcycle accidents can happen at any time at any location. However, there are some locations that are more prone to dangerous situations. 
Motorcyclists in Single-Vehicle Accidents May Be Entitled to Compensation – Fort Myers Motorcycle Accident Attorney 
A Fort Myers motorcycle accident attorney says that when a motorcyclist is injured in a one-vehicle accident, many people may believe the motorcyclist must have been speeding. However, this is not always the case. 
Changing Lanes Causes Motorcycle Accidents – Fort Myers Motorcycle Accident Attorney
A Fort Myers motorcycle accident attorney said changing lanes causes many accidents, particularly those involving motorcycles, and is one of the top causes of motor vehicle accidents in the United States.
Motorcycle Injuries Can Be Catastrophic – Fort Myers Motorcycle Accident Attorney
When motorcycles are involved in accidents, it is common for the motorcyclist to suffer severe injuries, or even die. 
How Drivers Can Avoid Accident With Motorcycles
Fort Myers Motorcycle Accident Attorney - Motorcyclists can be educated on how to ride their bikes and avoid accidents. However, motorcyclists are still injured and killed when out on the roads due to the negligence of drivers. 
Duties of a Vehicle Turning Left to Yield to Motorcycles
Many motorcycle accidents happen when other motorists fail to follow Florida's right-of-way laws.
How Do Motorcycle Accidents Compare to Car Accidents?
Motorcycles account for a disproportionate number of traffic fatalities and injuries. The Department of Transportation's Fatality Analysis Reporting System (FARS) reports that motorcycle and car accidents are similar in that they both are often caused by alcohol and/or speeding and distracted driving. 
When Does a Motorcyclist Have the Right-of-Way?
Many motorcycle accidents happen when other motorists fail to follow Florida's right-of-way laws. However, vehicle drivers often claim the motorcyclist came out of nowhere, or it was their turn to proceed at an intersection.  
When Motorcycle Accident Victims Should Contact an Attorney
The third Monday in June (June 15, 2020) is Ride to Work Day for motorcyclists. According to the National Highway Traffic Safety Administration (NHTSA), this day celebrates the joys of motorcycle riding each year.  
May Is Motorcycle Awareness Month
In observance of Motorcycle Safety Awareness Month, Spivey Law Firm, Personal Injury Attorneys, P.A. would like to share three major motorcycle safety campaigns.
When Crowding Causes Motorcycle Accidents
Experts say divided highways are statistically safer than other roads. However, traffic often travels at high speeds and makes frequent lane changes, putting motorcyclists in danger. 
What Drivers Should Know About Motorcycle Braking
Motorcycles do not stop as quickly as larger vehicles. Under perfect conditions, they require at least 120 feet to slow down from 60 mph to zero. 
Recommendations to Reduce Fatal Motorcycle Crashes
Motorcycle accident fatalities are 30 percent more common than other accident fatalities, according to the National Highway Traffic Safety Administration. 
Motorists, Be Aware of Motorcycles
Vehicle-carrying trucks have already started coming in anticipation of Florida's busy season. With an increase in the number of drivers on our roads and highways, more motorcyclists will be enjoying rides.
Motorcyclist's Wrongful Death Settlement
Motorcycle accidents are very common in Southwest Florida, and they can easily lead to the death of the motorcyclist or passenger. The family of a motorcyclist who crashed into a turning armored truck sued the security company which owned the truck for wrongful death. 
Motorcycle Sideswipe Accidents Are Particularly Dangerous
Sideswipe accidents can happen with any type of vehicle, but when a motorcycle is involved, it can be very dangerous. The motorcyclist can lose control or potentially get run over by the vehicle striking him or her.
Will a Continuous Flow Intersection Lessen Motorcycle Accidents?
Continuous flow intersections address one of the major reasons there are logjams at busy intersections and left-turn lanes. Thirty-six percent of fatal accidents involving motorcycles involve a car making a left-hand turn in front of a motorcycle. 
Motorcyclists Face Dangers on U.S. Roads
The recent tragic New Hampshire motorcycle accident that left seven motorcyclists dead is a grim reminder of the dangers motorcyclists face when sharing the road with other vehicles.
Motorists, Look Twice to Save a Life – Motorcycle Ride to Work Day
Florida has warm weather, beautiful scenery, and many motorcycle-friendly roads, which contribute to its ranking as number two in the number of registered private, commercial, and state-owned motorcycle registrations.  Many of these motorcycles will be on the road the third Monday in June for the annual motorcycle Ride to Work Day, which celebrates the fun of riding motorcycles.
Left-Hand Turns Cause Motorcycle Accidents
Experts say that the most dangerous situation for motorcyclists happens when other vehicles make left-hand turns. These turns account for approximately 42 percent of all motorcycle/car accidents. 
Distracted Drivers Cause Motorcycle Accidents
Distracted driving is the major cause of motorcycle accidents and is responsible for approximately 20,000 injuries and 400 to 500 deaths each year. 
Blind Spot Awareness and Motorcycle Safety
Every year there are approximately 840,000 blind-spot accidents in the United States. When motorcycles are involved in blind-spot accidents, they are particularly vulnerable, especially when the other vehicle is a car, SUV, or large truck. 
How Marijuana Affects Drivers and Motorcyclists
We must get the message out to the community that even if marijuana is medically legal to use, it is not legal to drive under the influence. Lives are changed forever by this irresponsible action on the part of some drivers.
How Drivers Can Avoid Motorcycle Accidents
More than 80 percent of all reported motorcycle crashes result in injury or death of the motorcyclist. 
Rear-End Motorcycle Accident Liability
Fall and winter are typically busy seasons for planned motorcycle activities as our population increases. This is also a time when there may be an increase in rear-end motorcycle accidents. 
Dangers of Broken Bones in Motorcycle Accidents
In serious motorcycle accidents it is not uncommon for the injured motorcyclist to suffer broken (fractured) bones. There are various types of fractures which may occur. These include spinal, skull, forearm, shinbone, thighbone, and/or pelvis.  
Florida's 2018 Motorcycle Safety Plan
Motorcycle accidents represented 19 percent of Florida's traffic fatalities and 12 percent of serious injuries during the last five years according to FDOT statistics.   
10 Things All Car and Truck Drivers Should Know About Motorcycles
Motorcyclists are at risk every time they are on the road. Against other vehicles, they have a higher degree of likelihood of suffering from injuries if involved in an accident. Other drivers need to understand that Florida is a Mecca for motorcyclists, and they may be anywhere at any time.
2 Promising Motorcycle Safety Systems
Motorcycle riding is usually a pleasant pastime for many Florida citizens and visitors, but it is not without challenges. Lacking the protection of enclosed vehicles, motorcyclists are vulnerable. Experts say that 2018 is a promising year for motorcycle safety systems. 
How Motorists Can Avoid Motorcycle Accidents
Other vehicles cause most of the accidents which involve motorcycles. Even if motorcycles are traveling at low speeds, the riders may incur injuries. They have very little protection against larger vehicles. 
In the United States in 2015 (latest available data), there were 4,976 motorcycle fatalities and 88,000 injuries, according to the Government Accounting Office. Some of these accidents were the result of defective parts which could cause a rider to lose control, have an accident and sustain serious injuries. 
Motorcycle Safety and Insurance - Plan Ahead! 
Florida is a wonderful place for riding motorcycles year-round. This is why there are so many registered motorcycles in our state. Planning trips to visit many of our beautiful and fascinating sites either by oneself or in groups is the pastime of many. When planning, safety must always be considered.  
When Is Road Rash in a Motorcycle Accident Dangerous?
When thinking about road rash, we may think everything will be all right. It is not a big issue. However, it can be a very big issue and require medical treatment far exceeding the proverbial, "It will heal itself." philosophy. 
What evidence can be used in litigating a motorcycle accident case? 
Motorcycle accidents are not like other vehicle accidents. There is a higher level of risk associated with riding a motorcycle. Evidence is important in litigating motorcycle accident cases.
Motorcycle Accident Victims' Hidden Injuries
Motorcyclists, do you know when you are injured in an accident? The answer to this question may be no.  
What You Should Do After a Motorcycle Accident
Motorcycles are enjoyed by many Floridians. Motorcycles offer riders and their passengers a sense of pride, freedom, and enjoyment. However, drivers who are not paying attention can pull into the path of, or fail to yield to, oncoming motorcycles.
Loved Ones of Deceased Motorcyclists May Be Able to File a Wrongful Death Lawsuit
Losing a loved one at any time is always devastating. When a motorcycle accident takes a loved one away, the survivors left behind may face a staggering financial blow if they were dependent on the deceased motorcyclist. 
Aggressive Drivers No Match for Motorcyclists
When it comes to accidents involving motorcycles and other vehicles, motorcycles usually lose. This is especially true of the accidents involving aggressive drivers. 
What Sources of Insurance May Apply to My Accident Case
If you are injured in a vehicle accident, you may be able to receive compensation for medical bills, lost wages, and related expenses from either your vehicle insurance company or the other driver's insurance company, depending on who was at fault.
What Factors Increase the Risk of Motorcycle Crashes
When collisions happen, motorcyclists have a greater risk of serious injury or death because they have little protection and no safety belts.
Who Pays Medical Expenses Before Motorcycle Accidents are Settled
Medical treatment happens before motorcycle accident cases are concluded. When these accidents occur and treatment is given, who pays?
Are Custom-Built Motorcycles Covered Under Product Liability Laws?
With their numerous parts, should motorcycles have a defect in any one of them a rider can lose control, have an accident and sustain serious injury. 
Motorcycle Near-Miss Crashes May Affect Training Programs
Crash reports and injury statistics have long been important outcome variables in the study of motorcyclists and the success of the training they receive. Yet, for many researchers, these indicators have not been an adequate indicator of success.
Motorcycle Hit-and-Run Cases - Who Pays the Bill?
February is Hit-and-Run Awareness Month. Motorcycle accidents involving cars and trucks are usually more serious than other types of crashes. When the accident involving the motorcyclist is a hit-and-run accident, being compensated for damages may be complicated. 
When Do Motorcycle Accidents Happen?
Since Florida has year-round good weather for outside activities, there is no question it is a Mecca for motorcycle enthusiasts. There are so many motorcyclists on our roads and highways that motor vehicle drivers are reminded to be alert.
Insurance Issues In Motorcycle Accident Cases
Motorcyclists in Florida and in the rest of the country face a number of unique difficulties when dealing with the legal and insurance ramifications of an accident.
Useful Evidence in the Event of a Motorcycle Accident
In the aftermath of a motorcycle accident,  the highest priority is ensuring your safety and good health.  After which you should engage in efforts to gather, protect and preserve useful evidence for your eventual motorcycle accident case.
What Insurance Should a Motorcyclist Carry
It is very important for motorcyclists to have uninsured/underinsured motorist (UM) coverage.  This insurance should be at least $300,000 of uninsured/underinsured motorist bodily injury insurance coverage per person.  That is just the minimum recommended coverage.
Motorcyclists May Suffer Crippling Spinal Injuries
A study conducted by Virginia Tech and Wake Forest University, School of Biomedical Engineering and Sciences, confirms that motorcyclists who hit fixed objects greatly increase their risk of dying or having very severe injuries such as crippling spinal injuries and fractured vertebrae.  
How to Stay Safe on Motorcycles

It is particularly important for motorcyclists to do everything they can to stay safe.  Review these guidelines to help you avoid accidents on a motorcycle.

"Ready-Set-Ride" - Motorcycle Safety Tips

Regardless of whether you are a first-time or seasoned rider, the Motorcycle Safety Foundation's tips for motorcyclists: "Ready-Set-Ride" can help you ride safely.