Representing Motorcycle Injury Victims Throughout Florida
The Spivey Law Firm, Personal Injury Attorneys, P.A., helps numerous victims each year who suffer injury or death in motorcycle accidents due to the negligent acts of another. Randall Spivey is a Fort Myers motorcycle accident attorney with a long history of representing the victims of motorcycle accidents across the Fort Myers, Naples, Cape Coral, and Port Charlotte area and throughout the state of Florida. He prides himself on providing legal representation to motorcycle injury victims and their surviving family members.
When Can You Recover Financial Compensation with the Help of a Fort Myers Motorcycle Accident Attorney?
When you are riding your motorcycle, things can go wrong in an instant. Drivers frequently make mistakes that put motorcycle riders in harm's way, and manufacturing defects and other issues play a role in many motorcycle accidents as well.
Common Causes of Motorcycle Accidents
Regardless of what happened, if you have been injured in a motorcycle accident in Fort Myers, you should speak with a motorcycle crash attorney about your legal rights. At the Spivey Law Firm, Personal Injury Attorneys, P.A. we help riders and their families recover just compensation for accidents involving:
Dangerous Turns

– Turning in front of an approaching motorcycle can be extremely dangerous, and it is usually the result of driver carelessness or neglect.

Unsafe Merging or Lane-Changing

– Drivers' failure to check blind spots before merging or changing lanes is a common cause of motorcycle accidents.

Running Red Lights and Stop Signs

– When drivers

run red lights and stop signs

, they put motorcyclists and others at risk for severe or fatal injuries.  

Following Too Closely

– Drivers who follow motorcycles too closely can be held liable when they cause rear-end collisions.

Distracted or Impaired Driving

– Distracted driving,

drunk driving

, drug-impaired driving, and fatigued driving are common driver-related causes of motorcycle accidents.

Motorcycle and Vehicle Defects

– From transmissions to

tires

, virtually all motorcycle and vehicle components have the potential to be defective, and defects can potentially lead to serious accidents.

Helmet and Other Riding Gear Defects

– In addition to motorcycle and vehicle defects, issues with riders' helmets, boots, gloves and other riding gear can cause accident-related injuries as well.

Road Defects

– Potholes, low shoulders, gravel, construction debris, and other road-related issues can also cause and contribute to motorcycle accidents in Fort Myers and throughout Florida.
Common Injuries in Motorcycle Accidents
Depending on the circumstances involved, motorcycle accidents can leave riders suffering from a broad range of injuries. Unfortunately, even wearing full riding gear won't always be enough to fully protect you when you go down. The types of injuries for which injured riders and their families can seek compensation in Florida include:
Traumatic

brain injuries

(including concussions)

Bone fractures

Organ damage

Road rash

Soft tissue damage

Facial injuries

Loss of digits or limbs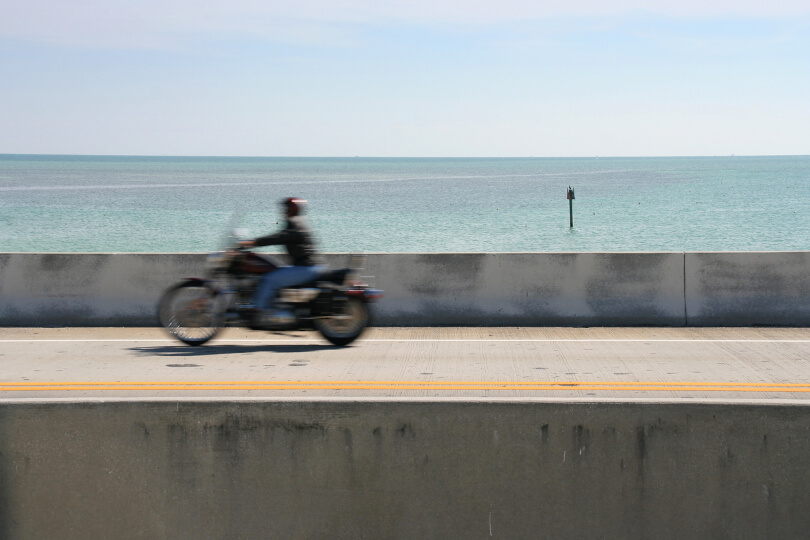 Danger on the Roads: Motorcyclists at Risk of Injury and Death
All too often, we see the catastrophic results of motorcycle accidents through the injury victims we represent. Most motorcycle crashes are not the fault of the operator. What's worse is that most of these types of incidents can be avoided if other drivers use more caution while on the road.
The majority of motorcycle accidents that result in injury or death involve another vehicle. Since other cars, trucks, and semis are much larger and offer more protection to their occupants than motorcycles, motorcyclists are at a distinct disadvantage. In many cases, if the driver of the other vehicle involved in the accident simply would have looked twice before pulling out onto the road or exercised more caution, the incident would not have occurred.
Careless drivers often forget two very important rules of the road: "Look twice and save a life," and "watch out - motorcycles are everywhere." When drivers of other vehicles fail to exercise due care, serious injuries, and fatalities to motorcycle riders are more likely to occur.

As an experienced Fort Myers motorcycle accident lawyer, Randall L. Spivey leverages the special laws and protections that apply to motorcycle accident cases in Florida to help victims obtain compensation. These laws enable injured parties to recover damages, including:
Pain and suffering
Loss of enjoyment of life
Long and short-term medical care expenses
Lost wages 
Wrongful Death Claims for Motorcycle Accidents
Sadly, each year many innocent motorcyclists are killed by careless drivers. This includes accidents caused by operators of motor vehicles who turn left into the path of an approaching motorcycle. And almost all of these situations, the accident could have been prevented if the driver of the motor vehicle had just waited for the motorcycle to pass, or looked twice to ensure there was no oncoming traffic before they turned. The family members of a motorcyclist who is killed in an accident have all rights under Florida law to pursue claims against the driver who caused the accident.
Risk Factors for Florida Motorcycle Crashes
Experts say that the most dangerous situation for motorcyclists happens when other vehicles make left-hand turns. These turns account for approximately 42 percent of all motorcycle/car accidents.
"Vehicle accidents involving the collision of a left-turning car and an approaching motorcycle can be very severe, often because the motorcycle t-bones the car while it is mid-way through the left turn," says DrivingTests.org.
A motorcyclist never suffers a "fender-bender" when he or she is in an accident with another vehicle. Injuries from the accident can be devastating and cause head trauma, paralysis, amputation, broken bones or even death.
According to DriversEducationUSA.com and the National Highway Traffic Safety Administration, drivers should know a few facts about motorcycles and sharing the road with them to avoid left-hand turn accidents.
Riding a motorcycle requires an exceptional handling ability; therefore, it is harder to maneuver a motorcycle quickly during a sudden traffic situation or a collision.
Riding a motorcycle on a highway or freeway can be much riskier during bad weather or bad road conditions.
Motorcycles are harder to notice on the roadway.
When making a left turn in an intersection, motorists should watch out for a looming motorcycle and not assume that they can turn left in front of a motorcyclist in a timely manner without having a collision. It is usually hard to gauge a motorcycle's speed; motorists should be patient and play it safe. Ensure there is enough time and space for the motorcyclist to clear the roadway before initiating a left turn. 
Being distracted while driving and making left-hand turns will often lead to accidents. According to the National Safety Council, driver cell phone use leads to 1.6 million crashes each year, and one out of every four traffic crashes in the United States are caused by cell phone usage. Other distractions also lead to accidents with motorcycles. These distractions may be turning to a different radio station, adjusting the air conditioning, putting on make-up, eating and/or drinking, carrying on conversations, or handling children. 
"Florida has more motorcycles on its roads than most other states, and drivers need to constantly expect to encounter a motorcycle sharing the road. Motorcyclists have the same rights as other vehicles on our roadways. Whether taking left-hand turns or making any other driving maneuver, drivers must always look twice before moving," said Fort Myers Motorcycle Accident Attorney Randall Spivey of Spivey Law Firm, Personal Injury Attorneys, P.A. "We are available to assist you should you or a loved one be injured in an accident."
Our Fort Myers Accident Attorney Outlines Your Possible Compensation
The family members of a motorcyclist who suffers fatal injuries in an accident can recover a large variety of monetary damages in the state of Florida. These monetary damages include mental pain and suffering, loss of support and services, loss of companionship and guidance, emotional pain and suffering, medical and funeral expenses, lost wages, and loss of prospective net accumulations of the estate. It is important to note that there are no caps or limits on the monetary damages that can be recovered. In other words, there is no cap or limit on the monetary amount that surviving family members can claim or recover from a jury. Motorcycles have special protections under Florida law. It is important to contact an experienced Fort Myers personal injury attorney to be guided on all of the available damages recoverable.
What Should You Do After a Motorcycle Accident?
In addition to contacting a motorcycle accident attorney, there are other important steps riders and their families need to try to take after motorcycle accidents in Fort Myers. To improve your chances of recovering just compensation, you should:
See a doctor right away.

Regardless of the nature or extent of your injuries, you should see a doctor as soon as possible.

Keep everything you have from the accident.

Be sure to keep your damaged riding gear; and, if you took photos with your phone, keep all of them to share with your attorney.

Document the damage to your motorcycle.

Whether your bike can be fixed or it has been totaled, you should try to document the damage before it gets repaired or taken to salvage.

Write down what you know.

Take detailed notes recounting everything you can remember about the accident.

Follow your doctor's advice.

As you move forward, it will be important for you to follow your doctor's advice (or seek a second opinion if you feel that one is necessary).
Why Do You Need to Hire a Fort Myers Motorcycle Accident Attorney After a Crash?
As we mentioned above, the bias against motorcycle riders makes it important to get help from a Fort Myers motorcycle accident attorney. But, this is not the only reason why you need an experienced attorney on your side. Your attorney will also be able to help you by:
1. Identifying All Available Claims After Examining the Evidence
Depending on what happened, you could potentially have multiple claims for compensation. Your attorney can investigate to identify all of the liable parties for your or your loved one's motorcycle accident.
Accident Photos
If possible, after receiving medical attention, it is important to get photos of the scene including any skid markings, accident debris, vehicles, the road and its signs. If the police at the scene take photos, or anyone else takes photos, the motorcyclist involved in the accident, or his or her representative, should take the same photos from the same angle as they do. Attorneys sometimes consult an accident reconstruction expert, and the photos will be helpful to that person in understanding how the accident happened.
Witness Statements
Even though authorities at the accident scene will file a police report with contact witness information, it is important, if possible, to get any neutral witness information. Having neutral witnesses can affect the outcome of a motorcycle accident case.
Safety Equipment
Evidence of wearing any safety gear at the time of the accident, can be important in demonstrating that the motorcyclist took some precautionary measures. Evidence of this may also assist those investigating the accident to understand how the impact affected the injured motorcyclist's body. Photos of the safety equipment should be in an "as-is" condition following the accident.
Medical Records
Seeking medical treatment immediately following the accident, and keeping all medical appointments is crucial to the outcome of any motorcycle litigation case. Consistent medical treatment, without any gaps, will assist the attorney in showing the injuries were serious. In addition, complete records of the provider, detailed costs and dates of service are required.
2. Helping You Get Treatment
If you are not sure where to go for treatment, your attorney can refer you to a specialist who is experienced in treating motorcycle riders with traumatic injuries.
3. Calculating Just Compensation
If you have been seriously injured or lost a loved one, you may be entitled to significant financial compensation. Your attorney can accurately calculate your losses and seek just compensation for you.
4. Negotiating on Your Behalf
It may be possible to obtain a settlement without going to court. Your attorney can negotiate on your behalf and advise you regarding when (and if) to settle.
5. Going to Court if Necessary
Finally, if necessary, your attorney can take your case to court. Serious motorcycle accidents can have lifelong consequences. If the insurance companies are not offering a fair settlement, you will need a motorcycle crash attorney who is prepared to fight for your rights at trial.
Contact a Fort Myers Motorcycle Accident Attorney for Help Today
If you or a loved one is injured or killed in a motorcycle accident in Florida, contact the Spivey Law Firm, Personal Injury Attorneys, P.A. today to schedule a free consultation with an experienced Fort Myers motorcycle accident attorney. You pay no fees or costs unless you win a settlement or verdict in your favor. In other words, you will pay no money upfront when you retain our services to assist you with your case. Please visit our settlements and verdicts page to view the results we have achieved in Florida motorcycle accident cases and other cases handled by our firm. 
More Helpful Information
Nighttime is a Particularly Dangerous Time for Motorcycle Accidents        Motorcyclists are vulnerable on Florida roadways, and drivers need to be even more alert to their presence at nighttime.             
Motorcyclists are Injured When Vehicles Fail to Yield
Failing to yield is a common cause of motorcycle accidents. All drivers need to obey Florida's right-of-way laws. 
When Trucks Fail to Yield to Motorcycles
Motorcycle accidents are usually catastrophic, especially when trucks are involved. They happen all too frequently in Florida. A motorcycle accident victim advocate fights for motorcycle accident victims. 
When Speeding Causes Florida Motorcycle Accidents
Speeding is illegal and dangerous. When motorcyclists are involved in accidents caused by speeding drivers, they have the potential of receiving catastrophic injuries. 
May 2023 - Motorcycle Safety Awareness Month 
How Florida Motorists Can Safely Share the Road with Motorcyclists - Motorcyclists are overrepresented in traffic-related fatalities and injuries. Motorists must safely share Florida's roads with motorcyclists to make this a safer state for all drivers.  
Florida Motorcycle Passenger Rights if Injured in an Accident
Florida motorcycle accident claims are different. There can be one or more operators who may be liable, especially when motorcycle passengers are involved. Passengers need to know their rights.
How Motorcycle Accident Victims Should Choose a Florida Personal Injury Attorney 
Motorcycle accident victims should choose carefully which attorney represents them in their personal injury lawsuits. They are not all the same. 
Motorcycle Dangers in Hit-and-Run Accidents  
There are options for victims of motorcycle hit-and-run accidents. It is important to seek legal assistance from an experienced Fort Myers motorcycle accident attorney. 
When Can Motorcycle Accident Victims Seek Compensation?
It is important for motorcycle accident victims to know when to seek compensation by contacting our experienced law firm. 
ABATE of Florida – Motorcycle Safety Awareness Program 
Spivey Law Firm, Personal Injury Attorneys, P.A. applauds ABATE for its continued efforts through its 'Motorcycle Safety Awareness Program'.
When Do Most Motorcycle Accidents Happen?
Florida motorcycle enthusiasts take to the roads frequently and are subject to the potential of negligent drivers causing accidents.
Why do I need motorcycle insurance in Florida?
Motorcycle insurance is essential to protect you on roads in Florida.   
Safe Motorcycle and Scooter "Ride to Work Day"
Motorcycle and scooter "Ride to Work Day" has been observed for over 30 years. Over 100 American cities participate, and there will be more motorcycles and scooters on Florida's roads. https://www.spiveylaw.com/blog/motorcycle-ride-to-work-day/
Observe Motorcycle Safety Month – 7 Tips for Drivers  
In Lee County, there have been nearly 2,500 vehicle crashes in 2022, with 59 of them being motorcycle crashes, 5 of which were tragically fatal. We are sharing 7 tips for motorists to keep motorcyclists safe on the roads. 
Florida Motorists Reminder to "Share the Road" with Motorcyclists 
Florida's environment is popular year-round with motorcycle enthusiasts. Motorists need to be aware of motorcyclists sharing Florida roads at all times, but particularly when the motorcycle population is even more congregated going, leaving, or participating in Florida's many bike events. 
Tailgating - Too Close for Motorcycle Safety  
A tailgater is a motorcyclist's nightmare. Imagine seeing a car or truck in your rearview mirror, right on your tail. You may feel nervous or threatened. 
2022 Florida Highway Merging and Exiting Issues for Motorcyclists 
The U.S. Department of Transportation (USDOT) reports that over 500,000 accidents occur every year because of merges and improper lane changes. Highway exit and entry ramps are high-risk areas for motorcycles. 
Serious Motorcyclist Injuries Caused by Negligent Drivers
Many see riding a motorcycle as the ultimate expression of freedom on Southwest Florida's roads. However, motorcyclists are far more susceptible to serious and life-threatening injuries than other motorists. 
Motorcyclists in Danger During Busy SW Florida Tourist Season
 Southwest Florida International Airport traffic has picked up in 2021, and this Christmas/New Year's holiday period is expected to be very busy in our area with more traffic causing the potential for dangerous motorcycle accidents. 
Motorcycle Safety – 5-Year Plan 
While Florida is one of the most beautiful places to ride a motorcycle, it is also one of the most dangerous in the nation. The AAA and the NHTSA report there were 516 motorcycle deaths last year. 
Florida Motorcycle Laws Drivers Should Know
Driving in Florida, especially when our population increases with part-time residents and tourists, can be frustrating and dangerous. Our roads become filled with motorists many of whom are motorcyclists. 
Red-Light Running - A Common Cause of Devastating Motorcycle Accidents
The Insurance Institute for Highway Safety (IIHS) reports that hundreds of deaths and tens of thousands of injuries are caused by red-light runners in the United States. Some of those tragically killed are motorcyclists who have very little protection. 
Vehicle Left Turns - A Danger to Motorcyclists
Florida has more motorcyclists and more motorcycle accidents than any other state in the United States.  The most dangerous situation occurs when motorcyclists meet motor vehicle drivers who are making left-hand turns.