Fort Myers Nursing Home Abuse Attorney
Protecting the Rights of Nursing Home Abuse and Negligence Victims
Every day loved ones are entrusted to the care of others in nursing homes and assisted living facilities. We expect them to get good care. However, as our Fort Myers nusing home abuse attorneys know all too well, nursing home neglect and abuse are becoming a serious problem in Florida. 
If your loved one is abused in any way, call our firm immediately at (888) 477-4839. Our Fort Myers nursing home abuse attorney, Randall L. Spivey, has the compassion and expertise to achieve the best possible settlement or verdict you deserve. We are committed to utilizing our team of experts and legal discovery to prove cases of elder mistreatment.
Common Forms of Nursing Home Abuse
Nursing home patients must receive the level of care outlined by Florida state laws, and your health care provider or facility must recognize your rights while you are receiving medical care.
Cases for nursing home neglect, in which the facility failed to provide reasonable care, include, but are not necessarily limited to, the following: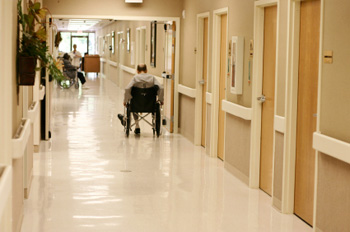 Inadequate supervision
Inadequate nutrition
Bedsores
Falls due to inadequate assistance or supervision
Infections
Prescription errors
Insufficient fluids
Improper medical care
Failure to provide assistance with bathing and bathroom needs
Inadequate protection from hazards
It's important to understand that physical abuse and neglect are not the only forms of nursing home abuse that seniors (age 60 and older) are likely to encounter.  Though many people think of nursing home abuse and neglect in a straightforward manner — such as the failure to provide proper nutrition, or intentionally withholding medication from a senior staying in a nursing home — there are many other types of abuse.
According to the Center for Disease Control, there are six different types of abusive misconduct imposed on seniors, both in the nursing home context and otherwise: physical, emotional, sexual, financial, neglect, and abandonment. 
The range of abuse that seniors are often subjected to can come as something of a surprise for the general public, but it is the unfortunate reality.  Nursing home seniors are in a uniquely vulnerable position, making them a target for various forms of abuse.  For example, it's not uncommon for a nursing home senior to be sexually harassed or even assaulted by a staff member.
Identifying Nursing Home Neglect and Abuse
Identifying nursing home neglect and abuse can be difficult if you don't know what to look out for. Warning signs include, but are not necessarily limited to, the following:
Bruising, burn marks, lacerations, fractures, and other physical injuries
Poor hygiene
Sudden loss of weight
Sudden hair loss
Dirty bedding/environment
Anxiety, particularly around caregivers
Inconsistent reporting of experience in the nursing home (i.e., complaints followed by "hedging" of complaints)
Depression
New motor impairments
Sudden change in financial health
Regular recurrence of injuries
It's important to keep an eye out for signs of neglect and abuse, as Florida law gives family members (spouse, child, parent, sibling, and others) the right to bring a lawsuit on behalf of their loved one under certain circumstances — specifically, if your loved one has given you power of attorney or can be adjudged mentally incompetent (giving your guardianship over them). If you're not sure that abuse is present but you have concerns for your loved one, scheduling a free consultation with a nursing home abuse lawyer is an important first step. 
Damages Your Fort Myers Nursing Home Abuse Attorney Will Pursue
Nursing home residents who sustain an injury as a result of the negligence of the facility may be entitled to receive monetary compensation for the following:
Medical expenses: Medical expenses include past and future losses.  For example, the senior is not only entitled to damages for the expenses already suffered as a direct result of the neglect and abuse but is also entitled to damages that compensate them for future treatment (i.e., surgeries, rehabilitation, ongoing therapy, etc.).
Pain and suffering: Pain and suffering in Florida is a non-economic loss and is therefore somewhat subjective in nature. It is a broad category of damages that accounts for both the physical and emotional suffering that an individual experiences due to the defendant's wrongful conduct.  For example, the physical pain resulting from a fracture would count as "pain and suffering" damages.
Disability or disfigurement: Impairments caused by nursing home neglect and abuse can give rise to a disability or disfigurement.  Damages may incorporate losses relating to the impairment, such as an inability to engage in social and personal activities, or even work-related losses (though seniors are unlikely to have a significant work-related loss).
Aggravation of pre-existing conditions: If a pre-existing condition has been aggravated, then the losses attributed to the senior's new, aggravated condition and their old, pre-existing condition may be recoverable as damages.
Punitive Damages: Punitive damages (which are multiplicative of the overall compensatory damages) are not commonly awarded in Florida but may be available in situations where the defendant engaged in willful, malicious, and particularly egregious conduct.  For example, if a nursing home caregiver sexually assaulted a patient, then the court might consider an award of punitive damages.
Our Fort Myers Nursing Home Abuse Lawyer Answers Your Top Questions:
What is Nursing Home Abuse?
Sadly, some nursing home residents can be exposed to various levels of abuse. Some elderly individuals may experience actual physical abuse, while others may be forced to deal with verbal and/or mental abuse. Additionally, some individuals may be subjected to over-sedation, and even more troubling, some residents can face sexual assaults and rapes.
How Does Nursing Home Neglect Differ From Abuse?
Neglect is a bit different than abuse in a nursing home setting. Neglect can appear in many forms, such as failing to protect a resident from the abuse of another resident or failing to protect him or her from safety and health hazards. Neglect can also include the facility's failure to provide sufficient and clean clothes to the resident or failing to provide adequate medical care based on the resident's mental and physical needs. Issues concerning dehydration and malnutrition can also be deemed to be neglect.
If I Suspect Abuse, Who Should I Tell?
If you suspect your loved one has experienced abuse or neglect while in the nursing home facility, you are encouraged to contact the facility administrator as soon as possible. Depending on the level of abuse suspected, you may also want to contact area law enforcement. The nursing home administration is expected and required to investigate such claims and report them to their appropriate state agency. In Florida, individuals can contact the Department of Elder Affairs.
Does Nursing Home Staff Have to Meet Certain Requirements?
They certainly do. In fact, the Florida Department of Health has set forth guidelines for nursing home staff. For example, under state law, a nursing home must have at least one doctor, a dietician, and a nurse available – all of whom must be qualified per the legal requirements of the state. Staff is also required to pass criminal background checks in accordance with state standards and regulations.
Can I present a privacy concern to a Fort Myers nursing home abuse lawyer? 
Under the law, all nursing home patients/residents are entitled to privacy when it comes to caring for their personal needs and receiving treatment. Such privacy includes allowing patients to close their doors and require staff to knock prior to entering their rooms. Additionally, the law allows patients to safely and securely store and use their own possessions. Thus, we can help with these claims as well. 
Seek Justice With the Help of a Fort Myers Nursing Home Abuse Attorney
At Spivey Law Firm, Personal Injury Attorneys, P.A.,  our attorneys provide personal attention to every client and devote whatever resources are necessary to help our clients receive maximum compensation. We treat each client and each case with personal care and attention. Contact a Fort Myers nursing home abuse attorney today to discuss your case and review your options. 
More Helpful Information 
What to Look for When Visiting Seniors Over the Holidays 
There are between 5 and 7 million Americans who provide physical, emotional, social, and financial assistance to aging seniors from a distance, according to the Journal of Gerontological Social Work. These long-distance caregivers must rely on phone conversations and check-ins by others living closer in order to regularly gauge a senior's well-being. 
Which Florida Assisted Living Laws Protect Residents?  Fort Myers Nursing Home Abuse Attorney
A Fort Myers nursing home abuse attorney says the Agency for Healthcare Administration licenses and regulates Florida assisted living facilities. In order for assisted living facilities to maintain their licenses, they are required to meet certain regulatory standards and undergo periodic audits to ensure their continued legality. 
Physical and Emotional Nursing Home Abuse – Fort Myers Nursing Home Abuse Attorney 
A Fort Myers nursing home abuse attorney says the National Council on Aging reported that 1 in 10 Americans who are age 60 or older have suffered from at least one of the seven forms of elder abuse identified by the National Center on Elder Abuse (NCEA). 
The Dangers of Nursing Home Infections
A Fort Myers nursing home abuse lawyer says nursing home residents are very susceptible to infections. Nursing homes and other facilities should have environments that prevent residents from contracting infections and knowledgeable staff that recognizes the first signs of infection in order to control the severity.  
Are Nursing Homes Required to Report Injuries? – Fort Myers Nursing Home Abuse Attorney
Some projections show that elder abuse will be the fastest-growing crime through 2025. Some nursing homes do not comply with federal and state laws designed to protect our elders in nursing homes.  
Fort Myers Nursing Home Abuse Attorney Randall L. Spivey Recently Won a Judgment Against a Lee County Nursing Home
Fort Myers Nursing Home Abuse Attorney Randall L. Spivey recently won a judgment against a Lee County nursing home for the wrongful death of a loving father in the care of the nursing home. 
Dangers of Nursing Home Neglect
A Fort Myers nursing home abuse attorney says the National Center on Elder Abuse (NCEA) reports that roughly 95 percent of nursing home residents have been neglected.
The Warning Signs of Elder Abuse
According to the National Institute on Aging (NIA), 1 in 10 elders suffers from some type of abuse every year. However, the signs of elder abuse often go unreported and abusers are not punished.