Protecting the Rights of Nursing Home Abuse and Negligence Victims 
Every day loved ones are entrusted to the care of others in nursing homes and assisted living facilities. We expect them to get good care. However, nursing home neglect and abuse is becoming a serious problem in Florida. There are many documented examples of nursing home and assisted living facility abuse - inadequate care, bed sores, infections, physical abuse, sexual abuse, emotional or psychological abuse, neglect, abandonment, and/or financial and material exploitation. Often, nursing home neglect is the result of deliberate understaffing.
If your loved one is abused in any way, call our firm immediately at (888) 477-4839. Our Fort Myers nursing home abuse attorney, Randall L. Spivey, has the compassion and expertise to achieve the best possible settlement or verdict you deserve. We are committed to utilizing our team of experts and legal discovery to prove cases of elder mistreatment. 
Common Forms of Nursing Home Abuse
Nursing home patients must receive the level of care outlined by Florida state laws, and your health care provider or facility must recognize your rights while you are receiving medical care.
Cases for nursing home neglect in which the facility failed to provide reasonable care, include, but are not limited to: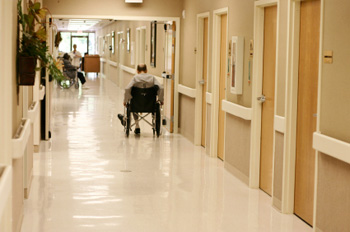 Inadequate supervision
Inadequate nutrition
Bed sores
Falls due to inadequate assistance or supervision
Infections
Prescription errors
Insufficient fluids
Improper medical care
Failure to provide assistance with bathing and bathroom needs
Inadequate protection from hazards
Compensation for Victims of Nursing Home Abuse or Neglect  
Nursing home residents who sustain injury as a result of the negligence of the facility may be entitled to receive monetary compensation for the following:
Medical expenses
Pain and suffering
Disability or disfigurement
Aggravation of pre-existing conditions
Seek Justice With the Help of a Fort Myers Nursing Home Abuse Attorney
At Spivey Law Firm, Personal Injury Attorneys, P.A., our attorneys provide personal attention to every client and devote whatever resources are necessary to help our clients receive maximum compensation. We treat each client and each case with personal care and attention. Contact a Fort Myers nursing home abuse attorney today to discuss your case and review your options. 
Recent Cases
Please visit our Settlement and Verdicts page to see the results of cases handled by Board Certified Attorney, Randall Spivey. If you notice signs of neglect or abuse involving a loved one and seek legal assistance, please contact Spivey Law Firm, Personal Injury Attorneys, P.A. If you or your loved one has experienced bed sores, fractures, fall injuries, malnutrition, dehydration, or other physical abuse or neglect in a nursing home facility, call the personal injury lawyers of the Spivey Law Firm.
Legal claims must be filed within a limited time; therefore, you should contact us as soon as possible to discuss a potential claim. We handle all nursing home abuse and neglect cases on a contingency basis. That means you pay nothing for our legal services unless we make a recovery for you.
More Helpful Information
What Is the Elder Abuse Prevention Program
The National Council of Aging (NCOA) estimates that nearly 5 million senior citizens are abused each year in the United States. Sixty percent of the time those who abuse seniors are family members. 
Holiday Season Checklist for Visiting Nursing Homes or Assisted Living Facilities
Give the gift of safety to a resident of a nursing home or assisted living facility. Use a checklist to keep them safe. 
What Compensation Can You Receive for Nursing Home or Assisted Living Neglect or Abuse?
Research shows that 2.5 million vulnerable individuals are at a much higher risk for abuse and neglect when residing in nursing homes or assisted living facilities than older people living at home.  
One Year Later – Florida Facilities Not in Compliance with State Generator Law
Nursing homes and assisted living facilities are slow to comply with Florida's generator law. Residents are at risk of being subjected to high temperatures and potential loss of life should electricity be lost.  
Jury Finds Largest Florida Nursing Home Chain Negligent
According to a Naples News article on May 31, 2018, Florida's Agency for Health Care Administration (AHCA) repeatedly cited two Consulate Health Care (CHC) nursing homes of putting profits over patients. 
Do Nursing Home and Assisted Living Facilities Have Adequate Staffing Levels? 
According to NursingHomeAbuseGuide.org, understaffing is an issue across the country and the underlying cause of elder abuse and neglect. When understaffing occurs, the staff that is actually at the facility often becomes extremely overworked and stressed which presents a greater risk of frustration and abusive acts. 
Who Protects Nursing Home Resident Rights?
We expect nursing homes and assisted living facilities to provide quality care while respecting and dignifying their residents. This is not always the case. Many facilities are inadequately staffed, and do not provide the required level of care to meet residents' needs even leading to neglect and abuse.
What You Need To Know About Nursing Home/Assisted Living Overdoses
Nursing home and assisted living overdoses happen frequently. They may happen by staff over-prescribing or over-dispensing. A resident may be pain-drug-dependent and be using extra drugs on the side. 
Update on Assisted Living Florida Emergency Generator Compliance
November 15, 2017 was the deadline directed by Governor Rick Scott for all assisted living facilities and nursing homes in the state to install generators which would be capable of powering air conditioning systems for 96 hours and have sufficient on-site fuel for their operation.  
9 Ways to Check Nursing Homes Like a Pro
It is never an easy decision when loved ones need to move to a nursing home. The standards may vary dramatically, so if you are armed with the right research tools and information, you will have a better probability of finding just the right place that treats its residents respectfully and allows them to live healthy and vibrant lives.
Hurricane Irma Unmasks Nursing Home Dangers
Hurricane Irma brought to light dangers in our nursing home and assisted living facilities. Eleven seniors died at The Rehabilitation Center at Hollywood Hills, Florida; others remain in the hospital. Hospital workers reported that the seniors "were left in sweltering heat."
Abused Nursing Home Residents' Rights to Sue in Jeopardy 
A critical protection for the elderly, according to Fair Arbitration Now Coalition (FANC), a group of more than 75 consumer, health and advocacy groups, is being stripped by the CMS (Centers for Medicare and Medicaid Services). 
How to Recognize Elder Abuse and What To Do
Elder abuse happens all too often. During Elder Abuse Month, June 2017, we would like to remind everyone about the signs of elder abuse and what can be done about it.
Facial Injuries - Common in Nursing Homes
Fox News reported in March 2017 that more than 20,000 people living in U.S. nursing homes experienced serious injuries to the face in 2016. 
What Are the Guaranteed Rights for Nursing Home Residents
Seniors and those requiring special care have guaranteed rights in nursing homes or assisted living facilities. Although there are many very good facilities, unfortunately there are those which have had cases of neglect and/or abuse. 
New Federal Rules Bar Nursing Home Arbitration
The CMS (Centers for Medicare and Medicaid Services) instituted its final rule in September 2016 prohibiting nursing homes and long-term care facilities, accepting Medicare and Medicaid, from using mandatory pre-dispute binding arbitration agreements with their residents. This rule becomes effective November 28, 2016.
Who Is Responsible For Nursing Home Safety
The fire January 23, 2014 in a Quebec, Canada nursing home where 35 people are missing and feared dead , is a wakeup call for all of us. Although an investigation is underway, it is reported by Bloomberg Business Week that the facility only had a sprinkling system in part of the building.
What Are Your Nursing Home Rights
With close to one quarter of Florida's population age 60 and above, the use of nursing homes and assisted living facilities will be on the rise.  Florida Nursing Home Neglect/Abuse Attorney reminds us that nursing home or assisted living facility residents have rights protected by law. 
Choose a Nursing Home or Assisted Living Facility Wisely
Choosing the right "next home" for a loved one is an important, difficult and often stressful decision.