Don't Just Accept an Insurance Settlement. Talk to a Slip and Fall Attorney First. 
Slip and fall accidents or trip and fall accidents can happen unexpectedly and often result in serious injuries. The Spivey Law Firm, Personal Injury Attorneys, P.A. represent individuals across the state of Florida who have been the victims of these common accidents. Call (888) 477-4839 today for a free consultation with one of our top Fort Myers slip and fall lawyers.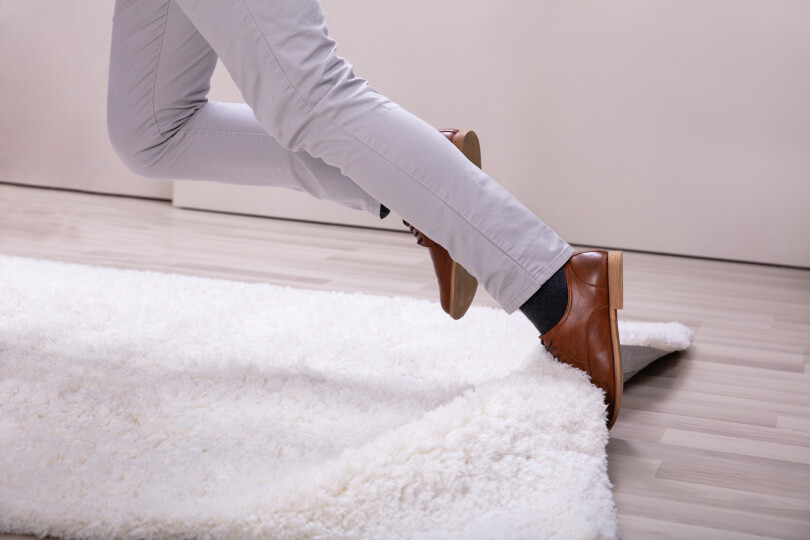 Our Fort Myers Slip and Fall Lawyers Explain Liability After an Accident
Slip and fall accidents can occur anywhere. They may happen indoors or outdoors, on private, public, or governmental property, and to anyone.
Private Property
Property owners, including landlords, are responsible for keeping their properties safe from the potential of slip and fall accidents. Outside landscaping,pavers, and sidewalks should be maintained to prevent accidents. If a slip and fall accident happens due to the negligence of private property owners, they may be held responsible for the accident. Sometimes, there is shared responsibility. For example, if a renter fails to inform a landlord of property issues, then both the landlord and renter can be responsible. 
Public Businesses
Patrons of businesses expect that they will be safe on business premises. Companies have a duty to clearly mark with warning signs if there are slippery floors or other safety issues until they are rectified. They also must fix damaged floors, stairs, sidewalks, and other surfaces commonly used by visitors. They must ensure that inventory is properly shelved so as not to create a potential hazard. The business owners and/or their landlords can be held responsible for accidents on their properties.
Public Property
Slip and fall accidents may occur in public places, such as parks and recreational areas. Public sidewalks, streets, and other public venues are inspected, maintained, and repaired by civil government organizations. Ultimately, the city, town, county, or other municipality may be responsible. 
Failure to Remedy Dangerous Conditions: What This Means for Slip and Fall Victims
If you or a loved one has suffered injuries in a slip and fall accident, our attorneys will promptly investigate the cause of the fall that led to your injuries. Often, we discover that the business, store, or other property where the fall occurred did not follow proper cleaning and maintenance procedures. Failure to clean and maintain the premises can result in water, food, drinks, or other slippery substances remaining on the floor, often leading to slip and fall accidents. Businesses can easily prevent many trip and fall injuries by establishing and implementing a regular maintenance policy and inspection of their floor surfaces.
Design Defects and Trip and Falls
In some cases, accidental falls are not caused by a failure of the property owner to remedy a dangerous condition but rather by a dangerous defect in the design of the property. This is referred to as a trip and fall accident. The Fort Myers slip and fall lawyers at the Spivey Law Firm represent victims injured in accidents caused by dangerously designed parking lots and other defective walking surfaces. In addition, accidental falls can occur as a result of:
Crumbled concrete;

Holes in the pavement;

Parking bumpers;

Inadequate lighting;

T

ripping hazards placed in walkways; and

Other dangerous or defective conditions that exist on business properties.
If such a condition causes serious injury, a variety of entities may be responsible for the accident that led to the victim's injuries, including the property owner, the architect who designed the property, and the construction company that built the parking lot or premises.
Common Injuries after a Slip and Fall 
There are several types of slip and fall injuries that may occur. These include:
Soft Tissue Injuries –

 

These injuries are not outwardly visible and may not become evident to the victim until days or weeks later.
Head Injuries – It is a medical emergency, even if a head injury appears minor. There may be swelling, bleeding, or a loss of consciousness. More serious traumatic brain injuries (TBI) can permanently alter the ability to function.
Cuts and Abrasions

 

– These injuries may look quite severe in the beginning. They may heal or need a few stitches but also hide more serious injuries, like concussions and broken bones.
Spinal Cord Injuries – These injuries are frequently life-threatening and should require immediate medical care and ongoing treatment. Medical professionals say the higher up in the spinal cord an injury is located, the more extensive the damage can be.
Special Circumstances Involving Slip and Fall Accidents
Slip and Fall Accidents Involving Children
Slip and fall accidents involving children present unique circumstances, not only because of the particular effects that such accidents have on a child but also due to Florida's "attractive nuisance" law. Under the attractive nuisance law, a property owner can be held liable for a child's injuries even if the child was trespassing at the time of the accident. 
Florida property owners are expected to realize that children are naturally curious and therefore tend to explore dangerous areas they find interesting without concern for or even realizing trespassing laws. 
As we get older, our bodies become more fragile, our reflexes and dexterity begin to deteriorate, and it becomes increasingly likely that our physical ailments will linger, putting us at a higher risk for physical injuries. 
As a result, the elderly often suffer from more serious injuries in falls and other premises-related accidents more frequently. In these instances, Florida has what's known as the "eggshell plaintiff" doctrine, under which property owners can be held fully liable for seniors' injuries regardless of any pre-existing conditions.
Delayed Slip and Fall Claims
Occasionally, accident victims wait to seek legal help due to fear, time constraints, or embarrassment. Florida has a four-year statute of limitations for premises liability claims, which means victims have up to four years to file a claim with our Fort Myers slip and fall lawyers.
However, we encourage hurt individuals to file their claims as soon as possible. As time goes by, the evidence can change, witnesses move on or forget what they've seen, and there is a built-in amount of time needed to investigate, gather evidence, and prepare a claim.
Our
Fort Myers Slip and Fall Lawyers
Answer Your FAQs
What Should I Do After a Trip and Fall Accident?
If you've slipped, tripped, and fallen on somebody else's property, immediately report your accident to the property's owner or manager. Promptly seek medical attention, even if you believe your injuries are minor. 
As discussed above, certain injuries may worsen over the course of days or weeks. Documenting your accident for property owners and medical professionals is critical to a successful premises liability case. The property owner and/or the insurance company may dispute your claim. That's why it's important to contact our Fort Myers slip and fall lawyers as soon as possible. We will assist in the process of gathering your evidence.
What Is the Average Settlement for A Slip and Fall Case in Florida?
If you are involved in a slip and fall accident, you are entitled to damages to compensate for your losses when you work with our Fort Myers slip and fall lawyers. These types of compensation include:
Current and Future Medical Bills.

You can be compensated for the bills related to your past and future medical treatment to address your slip and fall injuries.  
Pain and Suffering.

You may be entitled to recover for your physical and mental pain and suffering. However, there are no hard-and-fast rules for calculating such damages. That is why you need an experienced Fort Myers slip and fall lawyer to guide you on the proper settlement amount.
Other Potential Compensation.

You may also be entitled to lost wages, loss of earning capacity, and incidental expenses.
What Do I Need to Prove in a Slip and Fall Case?
When you work with our Fort Myers slip and fall lawyers, we will investigate and work to prove liability, negligence, and fault, as well as make your injuries known.
Liability

. You must show the defendant property owner had a duty of care to keep visitors and others safe from harm.

Negligence

. You must demonstrate the defendant breached or failed to fulfill that duty.

Responsibility/Fault

. You must prove the breach of duty (i.e., negligence) on the defendant's part was a significant factor in causing your injuries.

Injury.

You must show that you were actually harmed/injured.
How Long After A Slip and Fall Claim Can You Sue in Florida?
Under Florida's statute of limitations for personal injury cases, you have four years from the date of the accident to file a lawsuit. If the accident involves a death, you have two years from the accident date to file a lawsuit. However, we strongly encourage victims of slip and fall accidents to contact us as soon as possible so that necessary evidence can be collected and preserved.      
Our Fort Myers Slip and Fall Lawyers Can Help You Obtain Compensation for Your Injuries
Contact the Spivey Law Firm, Personal Injury Attorneys, P.A., today for a free consultation if you or a family member has been injured in a slip and fall or trip and fall accident. You pay no fees or costs unless you are awarded a settlement or verdict against the person or business found liable for your injuries. For additional information, visit our settlements and verdicts page to view the results in Florida accidental fall cases and other matters handled by our Fort Myers slip and fall lawyers.
More Helpful Information
Catastrophic Slip and Fall Accidents Happen Anywhere
Across the United States, slip-and-fall accidents injure victims because others are negligent, especially businesses and services that have a duty to protect their customers.