"Not only did Mothers Against Drunk Driving (MADD) issue a report that traffic deaths in the United States during the first 6 months of 2021 were the highest in 15 years, but Lee County reports showed there were 112 deaths on our local roads. This makes 2021 one of the deadliest years since 2017 for Lee County," said Fort Myers Accident Attorney Randall Spivey of Spivey Law Firm, Personal Injury Attorneys, P.A.
Injuries leading to deaths on Lee County roads include a 76-year-old male bicyclist who was crossing Fowler Street when he was struck by a car from behind, and news sources report that tragically 2021 started and ended with the death of a Lee County child.
The 112 reported deaths included pedestrians, motorcyclists, and bicyclists. The Florida Department of Highway, Safety and Motor Vehicles (FLHSMV) reported 10 were hit-and-run crashes. Four of the fatal crashes occurred on Corkscrew Road, Daniels Parkway, and McGregor Boulevard. The FLHSMV's final report is not expected for a couple of months, so the 112 figure may increase because some people tragically die much later than the date of the original accident.
What to do if you or a loved one is injured or tragically died on Lee County roads?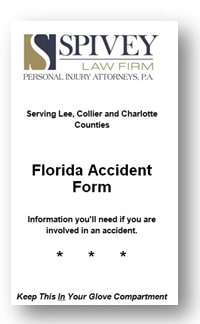 When you are injured or tragically die in an accident because of the negligence of another, there are steps that should be taken to safeguard your legal rights. These include:
Remaining at the scene
Contacting 9-1-1 emergency services
Seeking medical attention immediately after the accident
Preserving evidence by taking pictures of the scene and all vehicles involved in the crash
Getting witness information
Spivey Law Firm, Personal Injury Attorneys, P.A. has a "Florida Accident Form" to make it easier to get all the information you may need to protect your rights. This form may be accessed at Florida Accident Form. Make copies of this form and keep it accessible in all vehicles.
What should you do to assist your personal injury case results?
Follow all your doctor's orders including keeping all appointments and not returning to work before you are released to do so by your doctor.
Notify Spivey Law Firm, Personal Injury Attorneys, P.A. should an insurance company contact you. Let them know you are represented by an attorney.
Keep a file and journal of your experiences, how you, or your loved one, are feeling during treatment, and how the accident has changed your, or your loved one's, life.
Stay off social media as whatever you say may be used against you in a personal injury lawsuit.
Contact Spivey Law Firm, Personal Injury Attorneys, P.A. with any questions, concerns, and/or changes in your condition.
All cases are unique, but you may be able to recover compensation for your losses. These losses may include damages such as past, present, and future medical expenses, lost wages, pain and suffering, and property damage. There are no costs or attorney fees until we receive a monetary recovery for you. We are available 24/7.
We represent clients involved in many types of personal injury and wrongful death accidents, such as vehicle accidents, motorcycle accidents, truck accidents, boating accidents, bicycle accidents, slip-and-fall accidents, pedestrian accidents, and nursing home abuse. We provide personal contact and communication along with aggressive representation and are available 24/7.
Please contact Attorney Randall Spivey at Spivey Law Firm, Personal Injury Attorneys, P.A. at 239.337.7483 or toll-free at 1.888.477.4839.