There are three United States Department of Transportation (USDOT) agencies that implement and enforce trucking company legislation – the National Highway Traffic Safety Administration (NHTSA), the Federal Motor Carrier Safety Administration (FMCSA), and the Federal Highway Administration (FHWA).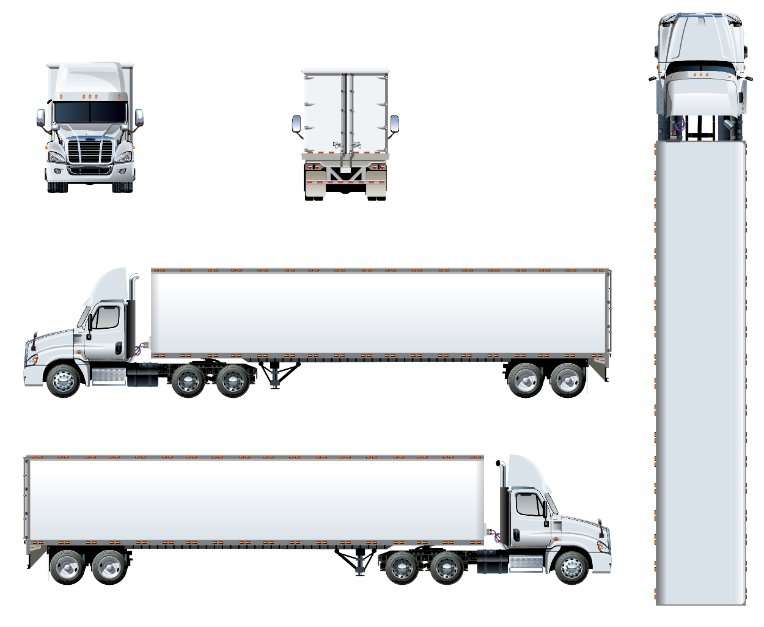 The NHTSA is the successor of the National Highway Safety Bureau and was established in 1970 by the Highway Safety Act. Its mission is to carry out safety programs and be responsible for reducing deaths, injuries, and economic losses in all types of vehicle accidents by investigating safety defects and setting and enforcing fuel economy standards.
The FMCSA focuses on reducing crashes, injuries, and fatalities involving large trucks and buses. It develops and enforces regulations for motor carriers.
The FHWA is also an agency of USDOT. Its mission is to implement and enforce the rules regarding the length, width, and weight of commercial motor vehicles on our highway system.
Individual states may have additional trucking requirements. Florida laws for commercial trailers are covered in Statute 316.515 (3)(b)(1) of the State Uniform Traffic Control act a portion of which follows.
A semitrailer operating in a truck tractor-semitrailer combination may not exceed 48 feet in extreme overall outside dimension, measured from the front of the unit to the rear of the unit and the load carried thereon, exclusive of safety and energy conservation devices approved by the department for use on vehicles using public roads, unless it complies with subparagraph 2. A semitrailer which exceeds 48 feet in length and is used to transport divisible loads may operate in this state only if issued a permit under s. 316.550 and if such trailer meets the requirements of this chapter relating to vehicle equipment and safety.
In addition, there are numerous requirements in Florida to keep our roads safe for all drivers. Some of these commercial trailer requirements include:
Obeying the same speed limits as other vehicles.

Not following within 300 feet of another truck or towing vehicle. (This does not apply to overtaking and passing and does not apply within cities or towns.)

Stopping within 40 feet at 20 mph if the trailer weighs 3,000 pounds or less.

Lights, side marker lamps, and reflectors also have requirements for type and placement.

Towing limitations exist regarding the strength of the towing connection, the length, and the requirement for a white flag if a chain, rope, or cable is used as a towing connection.

Securing loads so they are not able to drop, shift, leak, or escape.

Having a rearview mirror allows commercial trailer drivers to see the highway 200 feet behind them.

Having warning devices for day and night.
Trucking companies are required to adhere to the Commercial Driver's License Act which pertains to keeping unqualified, unsafe truck drivers off the U.S. highways. They must maintain driver files with employment applications that list 10 years of work experience, reference checks, driver's license, most recent accident record, medical certification every two years, road test results, drug testing record, and documentation that the company reviews the employment files every year.
Our experienced Florida Truck Accident legal team is ready to assist truck accident victims.
Commercial trailer accidents happen unexpectedly. Our Florida truck accident legal team has a proven record of assisting truck accident victims. Here are just a couple of our case results:
A multi-million-dollar settlement was awarded to a family in a

wrongful death

accident case when a runaway trailer broke loose from a truck and crashed into a vehicle, setting it on fire and causing the driver to tragically die in Naples.

A settlement was obtained for the family of a wrongful death of their 78-year-old mother in a

pedestrian accident

that was caused by a tractor-trailer in Marianna, Florida.
"Should you or a loved one be injured in a truck accident because of the negligence of another, contact Spivey Law Firm, Personal Injury Attorneys, P.A. after seeking medical attention. There are no costs or attorney fees until we receive a monetary recovery for you, and we are available 24/7 at 239.337.7483, toll-free at 1.888.477.4839, or contact us online at SpiveyLaw.com," said Randall Spivey, Florida truck accident attorney.