According to the National Highway Traffic Safety Association (NHTSA), approximately 42,915 people tragically died in motor vehicle traffic crashes in 2021. This is a 10.5 percent increase from the 38,824 fatalities in 2020. The NHTSA estimated that 14,955 lives were saved because of seat belts, and an additional 2,549 people could have been saved if they were wearing seat belts.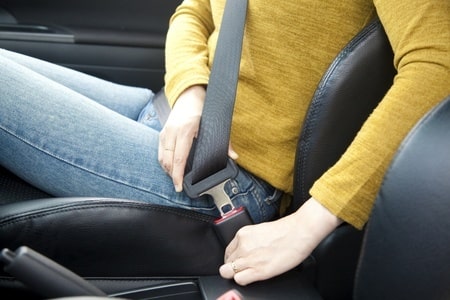 "There is no doubt that seat belts save lives. We at Spivey Law Firm, Personal Injury Attorneys, P.A. would like to share with you NHTSA's comments on seat belts," said Fort Myers Car Accident Attorney Randall Spivey.
Consequences
The consequences of not wearing, or improperly wearing, a seat belt are clear. NHTSA says:
Buckling up helps keep you safe and secure inside your vehicle, whereas not buckling up can result in being ejected from the vehicle in a crash, which is almost always deadly. 
Airbags are not enough to protect you; in fact, the force of an airbag can seriously injure or even kill you if you're not buckled up.
Improperly wearing a seat belt, such as putting the strap below your arm, puts you and your children at risk in a crash.
The benefits of buckling up are equally clear:
If you buckle up in the front seat of a passenger car, you can reduce your risk of fatal injury by 45 percent and reduce moderate to critical injury by 50 percent.
If you buckle up in a light truck, you can reduce your risk of fatal injury by 60 percent and reduce moderate to critical injury by 65 percent.
What's the right way to wear my seat belt?
The shoulder belt should be away from your neck (but not off your shoulder) and across your chest (between your breasts), making sure to remove any slack from your seat belt, with the lap belt secured below your belly so that it fits snugly across your hips and pelvic bone.
NEVER place the shoulder belt under your arm or behind your back.
NEVER place the lap belt over or on top of your belly.
Should I adjust my seat?
YES - Adjust to a comfortable, upright position.
Keep as much distance as possible between your belly and the steering wheel.
Comfortably reach the steering wheel and pedals.
To minimize the gap between your shoulder and the seat belt, avoid reclining your seat more than necessary.
Avoid letting your belly touch the steering wheel if you are driving.
What if my car or truck has airbags?
You still need to wear your seat belt properly.
Airbags are designed to work with seat belts, not replace them.
Without a seat belt, you could crash into the vehicle interior, other passengers, or be ejected from the vehicle.
When should my child be ready for an adult seat belt?
Many parents are in a quandary about when it is safe to transition a child from a booster seat into a seat belt. Experts believe that age is between 8 years old and 12 years old. However, it depends on the child. Some children will need booster seats longer than others. Their size and the size limits of the booster seats they are using determine the timing. The child must be big enough to fit properly in a seat belt, according to the NHTSA.
How to fit a child correctly in a seat belt.
The NHTSA says that children need to be tall enough to sit without slouching and be able to:
Keep his or her back against the vehicle seat;
Keep his or her knees naturally bent over the edge of the vehicle seat; and
Keep his or her feet flat on the floor.
Children's seat belts should be used as follows:
The lap belt must lie snugly across the upper thighs, not the stomach.
The shoulder belt should lie snug across the shoulder and chest, and not cross the neck or face.
Never let a child put the shoulder belt under an arm or behind the back because it could cause severe injuries in a crash.
Keep your child in the back seat because it is safer there.
Check your child's seat belt fit in every vehicle.
Attorney Randall Spivey encourages parents to model the correct behavior in using seat belts because parents have the strongest influence over them. The use of seat belts should never be negotiated, and vehicles should never move without everyone being buckled up.
"If you or a loved one should be injured as the result of another driver's negligent driving habits, please contact our experienced team. There are no costs or attorney fees until we receive a monetary recovery for you," said Fort Myers Car Accident Attorney Randall Spivey. "You may contact us at 239.337.7483, toll-free at 1.888.477.4839, or contact us online at SpiveyLaw.com"