The National Transportation Safety Board (NTSB) reports that when a driver operates his or her vehicle against the intended flow of traffic, some of the most severe types of crashes occur.
Despite accounting for only 3.7 percent of all fatal crashes on divided highways between the years 2010 and 2018, accidents were often fatal because they typically resulted in head-on collisions, according to the AAA Foundation for Traffic Safety.
Wrong-way driving can occur on any roadway. The Iowa State University Institute for Transportation reports that these events are often associated with driver confusion, especially when roads may be challenging to navigate.
The National Conference of State Legislatures (NCSL) reported on June 26, 2023, that it can be difficult for state agencies to collect statistics on the number of wrong-way driving incidents on highways because drivers may self-correct before a crash occurs. Because of this, wrong way driving data may not measure the full scope of the problem.
Factors Increasing the Risk of Wrong-Way Crashes
Studies conducted by the AAA Foundation for Traffic Safety and the Florida Department of Transportation (FDOT) revealed several factors that increase the risk of wrong-way crashes:
Alcohol impairment caused 6 out of 10 wrong-way accidents between 2010 and 2018.
Age-related accidents for both young drivers and senior drivers caused many Florida wrong-way accidents.
Over half of wrong-way crashes occurred between 12:00 a.m. and 6:00 a.m.
FDOT Wrong-Way Driving (WWD) Initiative
The FDOT conducts research on wrong-way driving through its "Wrong-Way Driving Initiative." Its statewide study included off-ramps that could be associated with higher rates of WWD entries. FDOT investigated all 1,447 off-ramps (1,282 service off-ramps and 165 system-to-system off-ramps) on the State highway system to analyze the risks of wrong-way accidents. According to the FDOT, 520 off-ramps were declared hotspots for WWD.
FDOT WWD Countermeasures
One of the most effective measures the FDOT found was a light-emitting diode (LED) highlighted wrong-way signs. FDOT uses enhanced highway sign assemblies in its alert system to:
Detect when vehicles are traveling in the wrong direction.
Activate the lights on the sign to notify the driver.
Send an immediate alert to officials.
Broadcast an alert on electronic message boards to alert upstream drivers.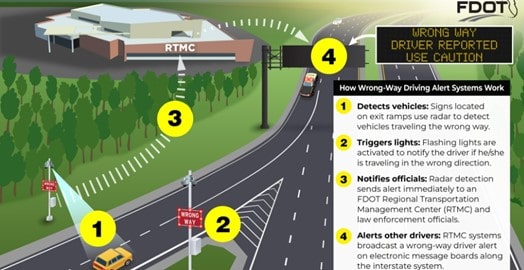 The FDOT WWD Initiative also includes an education component for drivers to become more aware of wrong-way crashes and how they should respond to a wrong-way driver.
What the FDOT Wants Drivers to Know
"Whether driving on the interstate, local, or state roads, all drivers must do the following if they approach a WRONG WAY sign to help prevent a crash:
Stop immediately.
Pull over to the side of the road.
Turn around when it is safe to do so.
If a driver encounters a wrong-way driver or sees an alert displayed on an electronic message board, they should take the following actions:
Use caution.
Reduce your speed.
Pull over.
Call 911 to report."
Fort Myers Car Accident Lawyer Assists Wrong-Way Driving Accident Victims
Wrong-way accidents often cause tragic fatalities or severe injuries such as:
These serious injuries can change a victim's life forever. When you or a loved one is injured because of the negligence of another, please contact Spivey Law Firm, Personal Injury Attorneys, P.A. after seeking medical attention. We aggressively represent you as we provide personal contact and communication.
Fort Myers Car Accident Lawyer Randall Spivey and his team are your advocates, and there are no costs or attorney fees until we receive a monetary recovery for you. Attorney Spivey has won over $219 million in compensation for his clients, including multi-million-dollar settlements and verdicts for many individual cases.
You may reach Spivey Law 24/7 at 239.337.7483, toll-free at 1.888.477.4839, or online at SpiveyLaw.com.