Forbes reported in January 2022 that Daimler, the auto manufacturer of Mercedes-Benz vehicles, had a technical defect in over 800,000 vehicles that could cause fires. Vehicle owners were warned to drive "particularly carefully" because Daimler did not have the parts to fix the defect immediately and was not issuing a recall at that time. The company says that an actual recall would be useless until parts become available.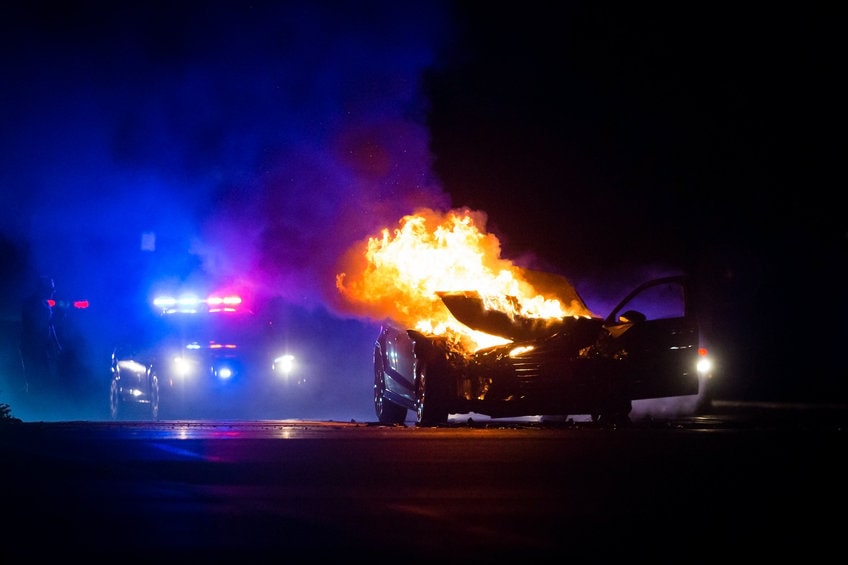 Mercedes-Benz vehicles are catching fire when they are driven or just parked. A leak appears to develop in the cooling pumps. The leak is hitting heated parts of engine compartments and igniting. Vehicles can become engulfed in flames in minutes. As of May 12, 2022, the National Highway Traffic Safety Administration (NHTSA) is not reporting any recalls for the 800,000 fire-prone Mercedes-Benz vehicles. Previously, Mercedes-Benz vehicles were recalled because of electrical overloads that caused fires. 
Following is a list of the Mercedes-Benz vehicles subject to spontaneous ignition caused by leaking cooling pumps:
GLE/GLS (167 platform)
C-Class (205 platform)
E-Class (213 platform)
S-Class (222 platform)
S-Class (223 platform)
E-Class Coupe/Convertible (238 platform)
GLC (253 platform)
CLS (257 platform) and
G-Class (463 platform) 
On August 20, 2021, NHTSA warned that owners of select Model Year 2017-2019 Chevrolet Bolt vehicles should park them outside and away from homes until they are repaired because of a fire risk. A GM recall covered 50,932 vehicles affected by the potential for fire of the high-voltage battery pack under the back seat's bottom cushion.
On March 29, 2021, NHTSA issued a press release reporting that owners of select Hyundai and Genesis vehicles should park their cars outside and away from homes, other structures, and other flammable materials such as vegetation until their vehicles are repaired, because of new and separate recalls because of fire risks.
In addition to vehicle defects causing fires, accidents can also result in vehicle fires.
On May 13, 2022, a 69-year-old North Carolina man was tragically killed in a fire-related accident in Leesburg when another driver swerved into his car, according to the Leesburg Police Department.
News Center 8 in Tampa reported that firefighters in Palm Beach County were summoned to extinguish a fire on I-95. Palm Beach County Fire Rescue said the fire happened after a two-vehicle crash in Jupiter around 10:20 a.m. Even though one of the vehicles flipped and caught fire, everyone managed to escape.
The National Fire Prevention Association (NFPA) recommends drivers do the following if their vehicles catch fire because of a defect or an accident:
PULL OVER as quickly as it is safe to do so, be sure to use your signal as you make your way to a safe location off the road such as the breakdown lane or rest stop.
Once you have stopped, TURN OFF the engine.
GET everyone out of the car. Never return to a burning car for anything.
MOVE everyone at least 100 feet from the burning car and well away from traffic.
CALL 9-1-1.
NFPA tips for preventing car fires:
Have your car serviced regularly by a professionally trained mechanic. If you spot leaks, or your car is not running properly, get it checked. A well-maintained car is less likely to have a fire.
If you must transport gasoline, transport only a small amount in a certified gas can that is sealed. Keep a window open for ventilation.
Gas cans and propane cylinders should never be transported in the passenger compartment.
Never park a car where flammables, such as grass, are touching the catalytic converter.
Drive safely to avoid an accident.
Know the danger signs:
Cracked or loose wiring or electrical problems, including a fuse that blows more than once
Oil or fluid leaks
The oil cap is not on securely
Rapid changes in fuel or fluid level, or engine temperature
Fort Myers Accident Attorney Randall Spivey assists clients injured in vehicle accidents.
Spivey Law Firm, Personal Injury Attorneys, P.A. has an experienced legal team to assist victims of vehicle fires and other accidents. We believe strongly in our clients' cases and do not accept attorney fees or payments for expenses until we receive a monetary compensation for them. We are available 24/7 to assist any potential client who is suffering because of an accident caused by the negligence of another.  After seeking medical attention, please contact us at 239.337.7483,  toll-free at 1.888.477.4839, or contact us online at SpiveyLaw.com.