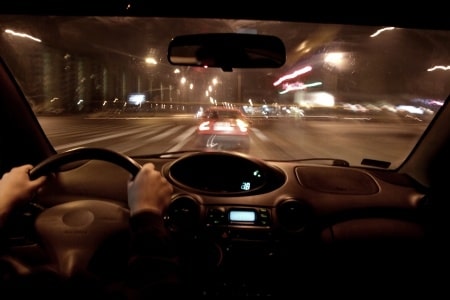 How many times when driving in Florida have you seen a vehicle driving after sunset with no headlights illuminated? Many of us have. This is a very dangerous, and illegal, situation. The Federal Highway Administration (FHWA) reports a driver is twice as likely to have an accident while driving at night than during daylight hours. Those odds certainly increase if a vehicle is driving without headlights.
Florida Law
All motor vehicles in Florida must have two headlights in good working order that shine a white light. The headlights must not be covered or altered in any way. Drivers must turn headlights on between the hours of sunset and sunrise, or when visibility is insufficient due to lighting or weather conditions. Florida Statue §316.217 says specifically:
1) Every vehicle operated upon a highway within this state shall display lighted lamps and illuminating devices as herein respectively required for different classes of vehicles, subject to exceptions with respect to parked vehicles, under the following conditions;
(a) At any time from sunset to sunrise including the twilight hours. Twilight hours shall mean the time between sunset and full night or between full night and sunrise.
(b) During any rain, smoke, or fog.
(c) Stop lights, turn signals, and other signaling devices shall be lighted as prescribed for use of such devices.
Why is night driving more dangerous?
The National Safety Council (NSC) and AllAboutVision.com say:
Vision is not as good at night. Depth perception, color recognition, and peripheral vision are compromised after dark. Glares from oncoming vehicles may temporarily blind another driver.
Visibility is limited at night. When dark, there is less time to react to situations, especially at higher speeds, because the visibility range is limited to 500 feet.
Drivers are likely to be sleepier. When driving at night, drivers would tend to be sleepier after a long day, and darkness tends to make one sleepier.
Age affects night vision. Drivers 60 years old and older may find it more difficult to drive at night because as one ages his/her eyes usually begin to fail. These failures can include:

The amount of light entering the eye is reduced because the pupils shrink and do not dilate as much in the dark.
The cornea and lens in the eye also age and become less clear, which causes the light to scatter inside the eye. This increases the glare and makes it harder to see objects on the road at night.
Many have optical imperfections called higher-order aberrations that cannot be corrected with either contact lenses or glasses. These aberrations increase with age, thus reducing vision, especially at night.
10 Night driving safety tips from "Road & Travel Magazine"
Use your lights. Turn your headlights on one hour before sunset to make it easier for other drivers to see you at dusk. Refrain from flashing your high beams so you do not blind others.
Make it easy for others to see you. Be sure all exterior vehicle lights work properly.
Avoid glare. Instead of looking at oncoming headlights, look toward the right side of the road near the white lines. Use the "day-night" feature on the rearview mirror.
Dim your interior lights. Lights in your vehicle could cause nighttime glare on the windshield or attract attention away from the road.
Keep all windows and headlights clean.
Keep your eyes moving. Look for flashes of light at hilltops, curves, and intersections that may indicate the headlights of other vehicles.
Increase your following distance. This can make it easier to spot potential problems on the road and give you more time to respond.
Slow down. Driving fast cuts down on your ability to react to whatever comes out of the dark.
Prevent fatigue. Night driving can be tiring, so ensure good ventilation inside the vehicle and take frequent breaks to give your eyes a chance to recover.
Use vehicle mirrors to your advantage. Exterior mirrors that are properly aligned not only reduce blind spots but also reduce glare from vehicles behind you.
In a personal injury case, the accident victim must prove the other driver did not have his or her headlights on. To do this, there must be eyewitness accounts and evidence from the crash scene. The at-fault driver may claim his or her headlights were on, and they turned them off after the crash. This is a situation that a personal injury attorney from Spivey Law Firm, Personal Injury Attorneys, P.A. will be able to assist accident victims by conducting a thorough investigation.
"If you or a loved one is injured as a result of a driver not taking the proper precautions for driving at night, contact the lawyers at Spivey Law Firm, Personal Injury Attorneys, P.A. to determine your rights," said Fort Myers Car Accident Lawyer Randall Spivey. "You may reach us at 239.337.7483, toll-free at 1.888.477.4839, or online at SpiveyLaw.com. Our legal team is available 24/7, and there are no costs or attorney fees until the firm receives a monetary recovery for you."