Florida Rollover Accidents Have Higher Fatality Rates Than Other Accidents
September 13, 2022 | Category: Vehicle Rollovers | Share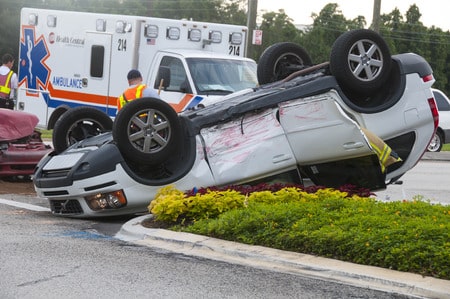 The National Highway Traffic Safety Administration (NHTSA) reports that rollovers are very dangerous incidents that have a higher fatality rate than other types of crashes. Although rare with only 2.1 percent of accidents involving rollovers, they accounted for nearly 35 percent of all deaths from passenger vehicle crashes. The majority of the deaths were to people who were not wearing seatbelts.
In Orange County, Florida a 44-year-old woman and an 18-year-old man tragically died in a rollover accident in August 2022. According to the Florida Highway Patrol, a 2017 Nissan Versa was heading east on University Boulevard preparing to make a left turn. A 2016 Ford Mustang heading west crashed into the Nissan causing it to roll over.
More than other types of crashes, a rollover reflects the interaction of the driver, the road, vehicle type, and environmental factors, says Safercar.gov.
Vehicle type
Experts say that all types of vehicles can roll over, but the taller and narrower vehicles, which include SUVs, pickups, and vans, have higher centers of gravity. This makes them more susceptible to a rollover if they are involved in single-vehicle crashes.
According to government laws, vehicles must undergo rollover testing and meet certain standards to be safe. NHTSA provides a rating system called the "Rollover Resistance Rating" (RRR). This rating is based on two factors: a vehicle's static stability factor (SSF) and a dynamic rollover test. Consumer Reports says that SSF determines how top-heavy a vehicle is, and the dynamic rollover test simulates a driver making severe steering maneuvers that could happen in an emergency. (Ratings can be found at safercar.gov.)
Speed
Safercar.gov reports that 40 percent of fatal rollover crashes involve excessive speed. Nearly three-quarters of fatal rollovers take place where posted speed limits are 55 miles per hour or higher.
Location
Close to three-quarters of fatal rollovers occur in rural areas where the roads tend to be undivided and have no barriers. The posted speed limits on these more dangerous roads are typically 55 mph or higher.
Routine driving maneuvers
NHTSA statistics show that over 90 percent of vehicles in fatal, single-vehicle rollover crashes were conducting routine driving maneuvers such as going straight or negotiating a curve. NHTSA concludes that driver behavior such as distraction, inattentiveness, speeding, and impaired driving, play significant roles in rollover crashes.
Rollover accidents are classified as either tripped or un-tripped, with 95 percent of rollovers being tripped.
Tripped accidents occur when a vehicle leaves the road and slides sideways, digging its tires into soft soil or striking an object such as a curb or guardrail. The force applied to the tires causes the rollover.
Un-tripped rollovers occur when vehicles are top-heavy, and drivers are conducting high-speed correcting maneuvers.
The Federal Motor Carrier Safety Administration (FMCSA) reports that in truck rollover accidents, it is truck driver error that accounts for 78 percent of rollover crashes across the U.S.
Truck rollover accidents are becoming increasingly common. Almost 10 percent of all truck accidents, according to the FMCSA, are rollovers. An FMCSA study showed that rollovers are the deadliest type of truck crash, and they frequently occur on highway inclines and ramps and involve other vehicles.
Rollover accidents may be caused by poorly maintained or designed roads, poorly manufactured or designed vehicles or vehicle components, or a failure on the part of service mechanics.
Rollover Accident Compensation 
Dealing with insurance companies after a vehicle accident is not the route an accident victim should take to receive the compensation to which he or she may be entitled to because of the negligence of another driver. Medical bills accumulate and may not be covered. There may also be medical bills in the future. If you are unable to work, what about your lost income now, or your reduced income later? What about being able to enjoy the activities you previously enjoyed?
When rollover accidents occur, whether they are single-vehicle accidents or multi-vehicle accidents and you or a loved one is injured, contact our experienced legal team after seeking medical attention. The following is one example of a rollover accident victim who received a multi-million-dollar settlement with the assistance of our rollover legal team:
An accident occurred in Arcadia when a woman was left paralyzed after her Ford Explorer rolled over because a tractor-trailer pulled out in front of her causing her to swerve.
"We are available 24/7 to assist you. There are no costs or attorney fees unless we make a monetary recovery for you," said Florida Vehicle Rollover Attorney Randall Spivey of Spivey Law Firm, Personal Injury Attorneys, P.A. Contact us at 239.337.7483, toll-free at 1.888.477.4839, or contact us online at SpiveyLaw.com.