Since the 1980s, airbags have saved countless lives. Modern vehicles have them as essential safety features.
The Insurance Institute for Highway Safety (IIHS) reports, "Airbags are one of the most important safety innovations of recent decades.
Airbags provide crucial cushioning for people during a crash. They're normally hidden but inflate instantly when a crash begins.
Front airbags have been required in all new passenger vehicles since the 1999 model year.
Side airbags aren't specifically mandated, but nearly all manufacturers include them as standard equipment in order to meet federal side protection requirements."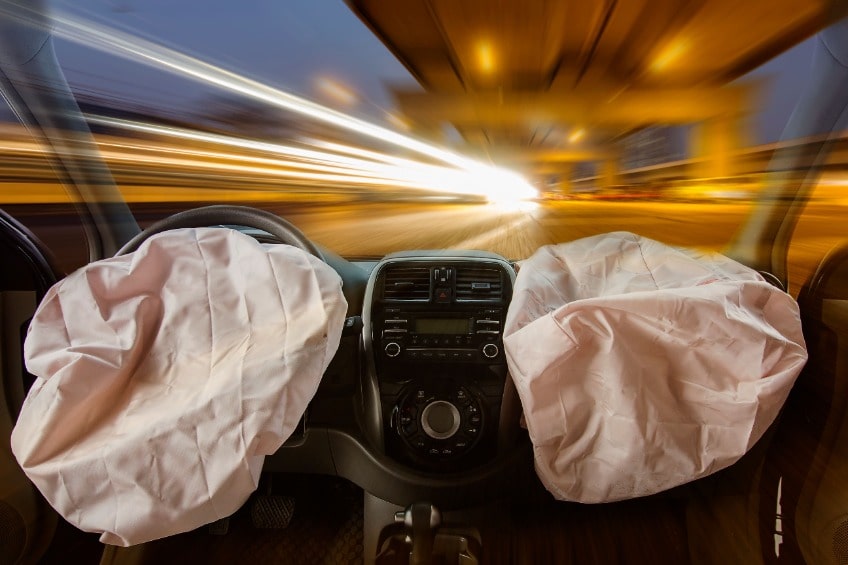 Front airbags inflate in moderate to severe frontal crashes to prevent front-seat drivers and passengers from contacting hard structures. IIHS reports that front airbags offer more protection when occupants are wearing seat belts and sit properly in the seat. Newer airbags dependent on seat belt usage have safety belt sensors that use an algorithm to decide whether to deploy the front airbags in a crash. Front airbags deploy for unbelted occupants when a crash is the equivalent of an impact into a rigid wall at 10-12 mph. Belted occupants in the front seats have airbags deployed at a higher threshold of about 16 mph.
The National Highway Traffic Safety Administration (NHTSA) reports:
"To perform well, an airbag must deploy quickly and forcefully. The force is greatest in the first 2-3 inches after the airbag bursts through its cover and begins to inflate. Those 2-3 inches are the 'risk zone'… Occupants who are very close to or on top of the airbag when it begins to inflate can be hit with enough force to suffer serious injury or death. However, occupants who are properly restrained and sit 10 inches away from the airbag cover will contact the airbag only after it has completely or almost completely inflated."
Although airbags save lives, studies show the risk of airbag injuries is more prevalent for shorter drivers.
The IIHS recommends shorter drivers and front-seat passengers do the following:
Sit in the center of the seat upright against the seatback with feet on the floor.
Arms and legs should never be resting against an airbag because the forces of a deploying airbag and the hot gases exhausted by the airbag may cause injury.
Avoid aftermarket dash or seat covers which can block or redirect a deploying airbag.
Drivers should sit with their chests at least 10 inches away from the center of the steering wheel. Shorter drivers who need the seat positioned further forward can often achieve this by slightly reclining the seatback. Many newer airbags take into account seat position and deploy with less force if an occupant is sitting close. For drivers of older vehicles who cannot get far enough away from the steering wheel, other adjustments need to be made.
Young children should sit in the rear seat. If a child does need to ride in the front seat, the seat should be as far back as possible, and the child should be securely buckled in a lap/shoulder belt and sitting against the seatback.
For women in the late stages of pregnancy, a combination of properly positioned safety belts and airbags offers the best protection. Like other drivers, pregnant drivers should ensure their abdomens are at least 10 inches from the steering wheel. The lap belt should be positioned high on the thighs (ideally on pelvic bones), below the soft part of the abdomen.
Fort Myers Car Accident Attorney Randall Spivey assists victims of vehicle accidents.
Attorney Randall Spivey and his team at Spivey Law Firm, Personal Injury Attorneys, P.A. have assisted clients 24/7 in the state of Florida including Fort Myers, Naples, Cape Coral, and Port Charlotte in their time of need. The firm believes strongly in its clients' cases and represents clients with no cost or attorney fees until a monetary recovery is received for its clients. Clients and their families need to concentrate on what is important, getting better and enjoying their lives.
Should you or a loved one be injured in an accident contact Spivey Law Firm, Personal Injury Attorneys, P.A. immediately after seeking medical attention at 239.337.7483, toll-free at 1.888.477.4839, or online at SpiveyLaw.com.