Stretching from Florida to Michigan and passing through Georgia, Tennessee, Kentucky, and Ohio, I-75 is one of the most dangerous roads in America ranking fifth, according to a study by the financial website ValuePenguin.com. In Florida, the number of fatalities on I-75 has gone up from the previous year. Lee County lost 91 people before year-end. At the same time last year, the number was 83, according to NBC-2.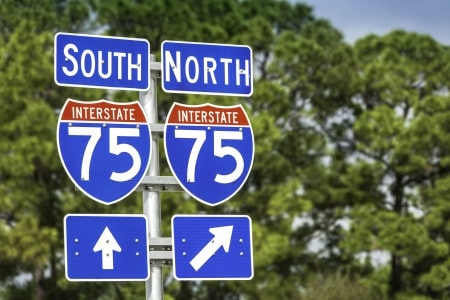 There are faces behind the statistics.
An 8-year-old girl from Nashville, Tennessee, was tragically killed in a multiple-vehicle crash on I-75 in Lee County on December 21, 2021. The crash happened in southbound lanes at 6:37 a.m. at mile marker 125 (between Daniels Parkway and Alico Road).
The Florida Highway Patrol reported that two drivers tragically died in a crash on I-75 between Colonial Boulevard and Daniels Parkway on June 11, 2022. The victims were a 20-year-old man from Palm Beach Gardens and a 40-year-old woman from Punta Gorda.
The busiest roads are often in states with the highest populations. The Federal Highway Administration says that California, Texas, Florida, Ohio, Illinois, Georgia, Virginia, Pennsylvania, North Carolina, and Michigan are home to the busiest interstates in the country. I-75 runs through three of these states. The agency confirms that there is a tendency for drivers to engage in risky behavior with so many vehicles on the road. 
What are risky driving behaviors? 
The National Highway Traffic Safety Administration (NHTSA) reports that the riskiest driving behaviors for fatal crashes are:
Drug-Impaired Driving
Not Wearing Seatbelts
When using I-75, keep these highway driving safety tips from experts in mind: 
Watch Your Speed 
Travel at the posted speed limit in good conditions and adjust your speed when the going gets rough. Factors like rain, construction, and bumper-to-bumper traffic, are all indicators that you may need to slow down. 
Maintain a Safe Following Distance 
Nobody likes being tailgated, and if the driver in front of you must come to a quick stop, following too closely could have dangerous consequences. 
Keep Right 
On many highways, the left lane is considered the passing lane, so if you are not overtaking a slower-moving vehicle, stay in the right lane. 
Maximize Your Visibility 
Turn on your headlights when the sun sets or whenever you use your windshield wipers, and make sure that your windshield, windows, and all exterior lights are clean. 
Be Alert and Well-Rested 
Good road manners start with you, so do not get distracted by things like your smartphone, and give the highway your undivided attention. Stop to stretch every couple of hours and avoid drowsy driving. 
"Driving requires our full attention to avoid accidents on I-75 or any roadway. Should you be injured in a vehicle crash, contact our experienced team of attorneys at Spivey Law Firm, Personal Injury Attorneys, P.A. We will assist you, and there are no costs or attorney fees until there is a monetary recovery," said Fort Myers Car Accident Lawyer Randall Spivey. "Contact us at 239.337.7483, toll-free at 1.888.477.4839, or online at SpiveyLaw.com."
Your Florida Personal Injury Law Firm Fights for Client Justice
Spivey Law Firm, Personal Injury Attorneys, P.A. is recognized by its clients for outstanding service. The following are a couple of client testimonials:
Spivey and his wonderful team, Mr. Abel, Mary, and Wendy. I am oh so grateful for you all! You all treated me like your family and for that, I am forever grateful. Was a hard decision to start prepping for trial considering what I've already been through the past 3 years. You all made it easy, and you were all there for me during the process. AMAZING! The best legal team in SWFL. Exceeded my expectations!!! Forever thankful. – NICOLE
This Spivey Team/Firm went above and beyond to assist negotiate and Resolve My Case… Rate them 11 on a 1/10 and would hire them again for their Prompt Efficient Professionalism. Thank you. – LINDA