Since May is National Bike Safety Month, we are sharing information on bicyclist and pedestrian work zone accidents.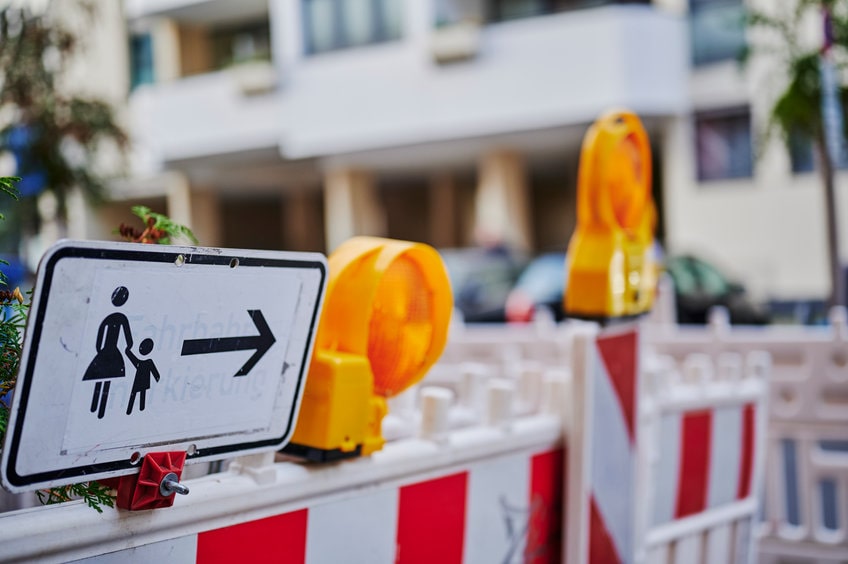 Reported bicycle fatalities in work zones are approximately 1 percent of work zone fatalities each year, but these statistics represent only those involved in motor vehicle-bicycle collisions. The United States Department of Transportation, Federal Highway Administration (FHWA), research shows that as high as 90 percent of all bicycle crashes causing injuries go unreported, so the bicycle work zone crash rate may be much higher.
According to the National Highway Traffic Safety Administration (NHTSA), there were 122 cases of tragic pedestrian deaths in work zone crashes in 2018, 38 percent of which were pedestrians on the job in work zones; 62 percent were other pedestrians.
The NHTSA reported the work zone activities causing fatalities included installing traffic signs, reopening a lane, flagging, picking up debris, replacing damaged concrete, paving operations, exiting a work vehicle, utility work, construction labor, Department of Transportation (DOT) electrical work, DOT maintenance work, fence contracting, repairing guardrail, stringing cable guard rail, and repairing a bridge.
Types of Hazards
Work zones often encroach on sidewalks and crosswalks where bicyclists and pedestrians may suddenly need to make unsafe detours that are difficult to navigate. Work zone projects may be phased in which means work zones may change weekly or daily. The choice for bicyclists and pedestrians may be between picking their way through construction sites or riding/walking in busy streets. 
Bicyclists are especially affected by degradations in pavement and temporary changes in roadway geometrics according to the FHWA. These conditions tend to develop more frequently in work zones than on other roadways where work is not in progress. Other major categories include degradations in pavement friction, pavement discontinuities, and abrupt elevation changes. Travel lane alignment shifts and the elimination of bike-only lanes represent typical hazards for bicyclists.
Fort Myers Accident Attorney Randall Spivey Assists Injured Victims of Work Zone Accidents.
When bicyclists and pedestrians are injured in work zone accidents caused by the negligence of another, they are likely to receive devastating injuries that can change their lives forever. Spivey Law Firm, Personal Injury Attorneys, P.A. fights for the rights of injured bicyclists and pedestrians. Work zone accident victims may be entitled to compensation for personal injury or wrongful death caused by an accident.  Taking legal action can hold the responsible parties accountable. The compensation can be used to defray medical expenses, rehabilitation expenses, long-term care expenses, funeral and burial expenses, lost wages, and pain and suffering.
Why Choose Spivey Law Firm?
Spivey Law Firm handles cases throughout Florida no matter where the accident occurred. We handle all types of pedestrian and bicyclist accidents, provide personalized legal representation, and are available 24/7 at no cost or attorney fees for our clients until we make a monetary recovery for them. We have a proven record of success having recovered over $169,000,000 in settlements and verdicts for our clients. Here are what a couple of our clients have said about working with our team:
I made the right decision by choosing Spivey Law. I shopped for lawyers and got frustrated with what I was encountering. So, I went to the internet and chose Spivey Law because of the outstanding customer and peer ratings. I made the right choice my case was difficult and lasted a long time, but Mary (Randall Spivey's assistant) was there with me the whole time she helped me thru an incredibly rough journey. Randy is a GREAT lawyer compassionate yet very professional. Randy, Mary, and the WHOLE firm went above and beyond I cannot say how grateful and appreciative of all that they have done to help me!! CAROL 
I will never regret the day I made that phone call to the Spivey Law Firm to handle my case. They took and handled my case like I was a member of their own family. They exceeded my expectations. Their professionalism works like magic. One piece of advice I have for you, be patient and trust them. I can't give you details, but I can ensure you that you will not regret hiring them. I highly recommend that law firm! Thank you, guys! BD 
"Should you or a loved one be injured in an accident, please contact me at 239.337.7483, or toll-free at 1.888.477.4839, or contact us online at SpiveyLaw.com," said Fort Myers Accident Attorney Randall Spivey.