"Ride to Work Day" started in 1992, 30 years ago, by Road Rider Magazine now titled Motorcycle Consumer News. The Ride to Work organization was founded as a 501c4 non-profit organization and is promoting motorcyclists and scooter riders to ride their vehicles to work on Monday, June 20, 2022.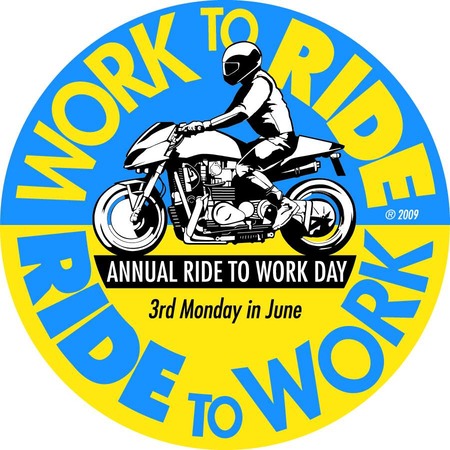 Ride to Work wants motorcyclists and scooter riders to participate in the event to demonstrate:
      - The number of motorcyclists to the public and politicians
      - Motorcyclists are from all occupations and all walks of life.
      - Motorcyclists can reduce traffic congestion in large cities.
      - Motorcycles are for transportation as well as recreation.
Andy Goldfine, an event organizer, said in 2021 that "Motorcycles and scooters consume fewer resources per mile than automobiles, and take up less space in parking areas and on roads. Riders seek employer and community support for this efficient form of transportation, and more government and public awareness about riding's many benefits."
Over 100 American cities recognize "Ride to Work Day." Drivers need to look out for more motorcycles and scooters on the roads on June 20.  IDriveSafely.com recommends that drivers observe the following 12 tips to make the roads safe for motorcyclists and scooter riders:
Drivers should stow their cell phones in the glove compartment to eliminate distractions. It's crucial to communicate this rule to teen drivers and follow up by understanding when they don't immediately answer a call or text. According to NHTSA-funded research, drivers of passenger vehicles are distracted more than half the time. 
Only drive when sober and alert. "Driving under the influence (DUI) or driving while intoxicated (DWI) puts both motorcyclists and other vehicles at risk for serious consequences. Alcohol is the biggest factor in motorcycle-related fatalities." - Lauren Sandford, Consumer Advocate, ConsumerSafety.org
Encourage passengers to alert drivers to the presence of motorcycles. It's important for everyone in the car to watch for things that a driver may not see. A passenger in the front or back seat has a different range of vision than the driver and could prevent an accident by speaking up. 
It's easy to misjudge a motorcycle's speed and distance. Give them extra room and extra time. Many motorcycle accidents occur when other vehicles rear-end them. The other vehicles could suffer minor fender benders, but not motorcycles. These accidents can even tragically be fatal for motorcyclists.
Make sure mirrors are in the proper position when entering a vehicle as the driver. Check blind spots with mirrors and physically turn around before changing lanes. While this is an important habit to cultivate for drivers, it's especially crucial during times when there could be a motorcycle in the vehicle's blind spot. 
Talk with young and inexperienced drivers about being aware of the presence of motorcycles. Make sure they understand that a fender bender for them could be fatal for someone riding a motorcycle or scooter. 
Use caution when opening the door to exit a parked car, especially in areas with heavy traffic. Always look behind the car before opening a door. 
Slow down when going through intersections. One of the leading causes of collisions with vehicles and motorcycles is the driver failing to notice the presence of a motorcycle at an intersection. 
Use special caution in areas with road construction. Motorcyclists can't navigate road hazards as easily as full-sized vehicles. A small change in the grade of a road or a sudden stop can throw a motorcyclist. 
Don't rely on a motorcycle's turn signals. Like cars, sunlight at the right angle can render turn signals invisible. Motorcyclists may inadvertently leave their signal on or neglect to use turn signals, as well. 
Keep the volume turned down. A driver may be able to hear a motorcycle even if they can't see it. When driving with the volume up, the driver loses the advantage of being able to hear what's going on outside of the vehicle. Approaching motorcycles in the car's blind spot, sirens, or warnings from passengers go unnoticed when onboard entertainment volume overwhelms noises outside. 
Provide safe space during inclement weather. And remember that motorcyclists get caught in inclement weather, too. They have a tougher time handling the oil and debris on the pavement during rainstorms, so give them extra room to maneuver. Follow at a further distance to make sure it's possible to maintain a cushion of space. 
Florida Motorcycle Lawyer Randall Spivey assists injured motorcyclists and scooter riders.
In just the last couple of months, a Fort Myers motorcyclist was tragically killed in a crash on Iona Road in Ft. Myers, and a Naples motorcyclist tragically died after a crash on Immokalee Road in Naples.
Every day, Spivey Law Firm, Personal Injury Attorneys, P.A. sees the devastating results of motorcycle injuries and tragic deaths. These victims and their families may seek financial compensation for motorcycle and scooter accidents caused by the negligence of another motorist. Randall Spivey says, "Some of the most common grounds for seeking financial compensation include:
Distracted driving
Fatigued driving (or falling asleep behind the wheel)
Turning in front of an approaching motorcycle without the right of way
Sideswiping a motorcycle while attempting to change lanes or merge
Speeding, tailgating, running red lights and stop signs, and other driving errors
Motorcycle and vehicle defects and faulty repairs
Roadway hazards (i.e., uneven lanes and construction zones) 
Please contact Spivey Law Firm, Personal Injury Attorneys, P.A. 24/7. We have the experience of assisting a multitude of motorcycle and scooter accident victims. There are no costs or attorney fees until we receive a monetary recovery for you. You can reach us at 239.337.7483, toll-free at 1.888.477.4839, or contact us online at SpiveyLaw.com."