National Safe Boating Week - Tips for Child & Teen Boating Safety
May 19, 2022 | Category: Boating Accidents | Share
The Florida Fish and Wildlife Conservation Commission (FWC) released its most recent report on boating accidents in May 2021. The report showed there were 402 boating accidents that involved collisions and 44 percent of them were due to the operator's inattention or failure to maintain a proper lookout.
Lt. Seth Wagner of the FWC Boating and Waterways Section said, "It is important for boaters to keep in mind that a vessel should be treated with the same responsibility as a car or truck so everyone can enjoy Florida's beautiful waters."
Drowning is the leading cause of accidental death in children. When drivers have children in their vehicles, they are subject to Florida's laws regarding child safety precautions, including booster seats and security restraints. On the water, boat captains have a responsibility to their passengers, especially children. Children are naturally playful and may engage in horseplay, running on decks, jumping off boats, and other dangerous activities.
The U.S. Coast Guard (USCG) has 5 safe boating tips boat operators should know:
Wear a U.S. Coast Guard-approved life jacket when boating. All mariners should follow state laws when it comes to wearing life jackets. When boating with children make sure to choose a life jacket that is appropriate for your child's weight and water activity.
Enroll children in swimming lessons as soon as possible. Drowning is the leading cause of accidental death for children of all ages. Having the ability to swim serves as a critical line of defense against drowning accidents.
Pack all safety equipment prior to getting underway. Ensure that all emergency gear is up to date and stowed in a position that is easily accessible if needed. Equipment such as first aid kits, flares, blankets, radios, and a portable fire extinguisher all play pivotal roles in a scenario that requires a quick response to an emergency.
Educating children on propeller safety and staying clear of the "props". Operating below the waterline, the propeller is not readily visible to the operator, passengers, and swimmers. It is important to teach children the important safety rules that pertain to the propeller.
Be a good role model. Set a good example and show children that safety is important. Establish basic safety rules so children have instruction on how to act in accordance with safety guidelines.
Personal watercraft (PWCs) such as Wave Runners and Jet Skis are very popular in Florida, especially with teens. However, the USCG says that Florida PWC riders and passengers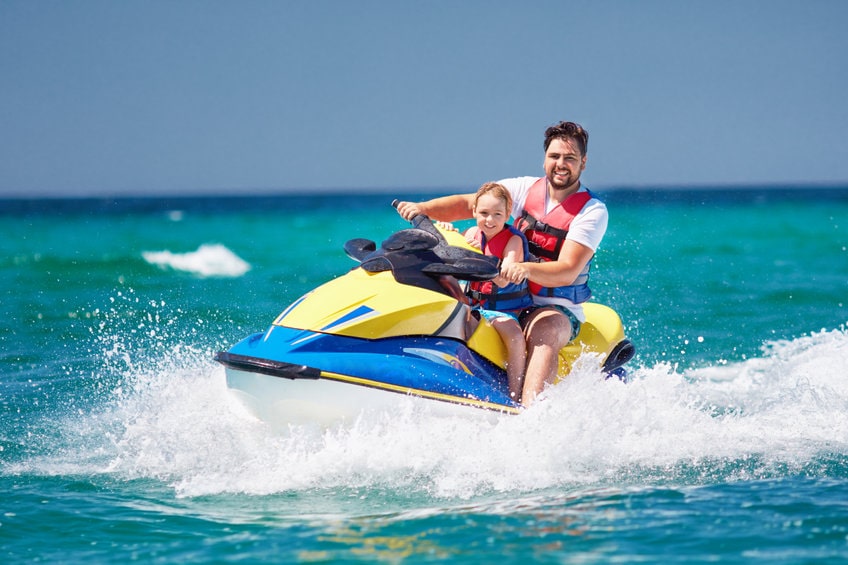 have a higher collision rate than any other type of watercraft. The leading cause of PWC accidents is operator and passenger inexperience, noncompliance with water safety rules, and risk-taking. The USCG defines PWCs are Class A inboard boats, and they are required to follow standard boating regulations. PWC operators are also required to comply with all posted boat speed regulations.
PWCs can get into trouble fast. Boat-ed.com recommends the following 7 safety tips:
A PWC is very maneuverable and responsive to slight turns of the steering control. At high speeds, a quick turn can make the PWC unstable, causing the operator and passengers to fall off. Therefore, most states require that everyone on board a PWC wear a personal flotation device (life jacket).
Any passenger on a PWC should be able to hold on securely to the person in front of them or to the handholds while keeping both feet firmly on the footrests. Children who are too small to be able to do this should not ride.
A passenger on a PWC should never be seated in front of the operator.
Keep hands, feet, loose clothing, and hair away from the pump intake area. Before cleaning debris from the pump intake, be sure to shut off the engine.
The jet of water exiting the steering nozzle at the rear of the PWC can cause severe internal injuries. Anyone riding on a PWC should wear a wetsuit or other clothing that provides similar protection. Also, keep everyone clear of the steering nozzle unless the PWC is shut off.
Never exceed the manufacturer's recommended capacity for your PWC.
Know your limits, and ride according to your abilities.
Fort Myers Boating Accident Attorney Randall Spivey of Spivey Law Firm, Personal Injury Attorneys, P.A. protects the rights of boaters and wave runner accident victims throughout Florida. Should you or a loved one be injured in a boating or PWC accident, please contact Attorney Spivey at 239.337.7483 or toll-free at 1.888.477.4839 or contact us online at SpiveyLaw after seeking medical attention.