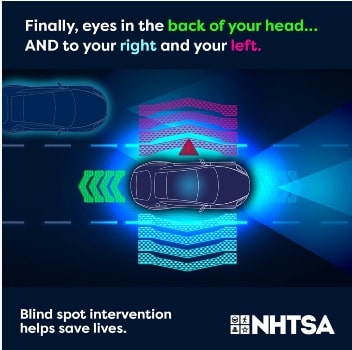 Drivers represent the greatest threat to safety on Florida's roads, according to the National Highway Traffic Safety Administration (NHTSA). A study found that more than 94 percent of traffic accidents were the result of drivers' actions or inactions. There are more than 400,000 crashes each year, and many could have been avoided by recent technology, according to the NHTSA including:
Blind Spot Monitor (BSM) Systems may sound audible warnings when vehicles are changing lanes if there is another vehicle in their blind spot. They also have a light on the side mirrors to alert drivers of other vehicles.
Rear Crash Braking Systems work with cross-traffic alert systems to detect the risk of a collision and automatically applies the brakes.
Lane Departure Warning (LDW) Systems address the issue of drivers who drift into another lane into the path of other vehicles. The systems are designed to minimize accidents. Cameras and onboard computers are used in two versions of LDW systems. One is an audible system that lets drivers know they are departing from their lane. The other version not only has an audible signal but also takes control of the steering to move the vehicle back into place.
Automatic High Beams (AHB) use switching technology to shine less light on occupied areas of the road and more light on unoccupied areas, according to the NHTSA.
Dr. Steven Cliff, NHTSA's Deputy Administrator said, "Vehicles equipped with lifesaving technologies can prevent or reduce the severity of a crash, but they are most effective when drivers learn how to use them. NHTSA is ensuring that vehicle manufacturers and developers prioritize safety while they usher in the latest technologies – and that the public understands their capabilities and limitations."
Although there are other safety technologies, the NHTSA is kicking off a year-long digital campaign to educate the public on the above four technologies. In a press release, the NHTSA said the campaign would be a "…$1.25 million digital paid media campaign to help drivers learn about the safety benefits of advanced driver-assistance technologies in newer vehicles. The agency's research shows that many drivers are unaware of the benefits of the technologies and even how they work. The campaign will help fill those knowledge gaps to help reduce traffic crashes and save lives."
Fort Myers Accident Attorney Randall Spivey of Spivey Law Firm, Personal Injury Attorneys, P.A. encourages drivers to become familiar with new technology that could save their lives and those of others on our roads. Some of the common types of vehicle accidents are those caused by distracted driving, alcohol or drug impairment, failing to yield the right of way, aggressive driving, tailgating, speeding, changing lanes too quickly, and not heeding stop signs and red lights. Many of these accidents can be avoided with the use of new technology.
Being injured in a vehicle accident can often be life-changing for drivers and their families. Victims of vehicle accidents caused by the negligence of others may suffer from injuries such as broken bones, lacerations, and traumatic injuries, just to name a few. After seeking medical treatment, accident victims should contact the experienced legal team at Spivey Law Firm, Personal Injury Attorneys, P.A. There are no costs or attorney fees until we receive a monetary recovery for you, and we are available 24/7. We provide personal contact and communication and aggressively represent all of our clients. Please contact us at 239.337.7483, toll-free at 1.888.477.4839, or contact us online at SpiveyLaw.com.