Over Memorial Day Weekend 2020, 6 people were ejected from an SUV in a rollover crash on a Florida expressway near Orlando. The vehicle was traveling north when it drifted onto the shoulder for unknown reasons, hit a pole and flipped over. Two adults tragically died, according to the Florida Highway Patrol (FHP).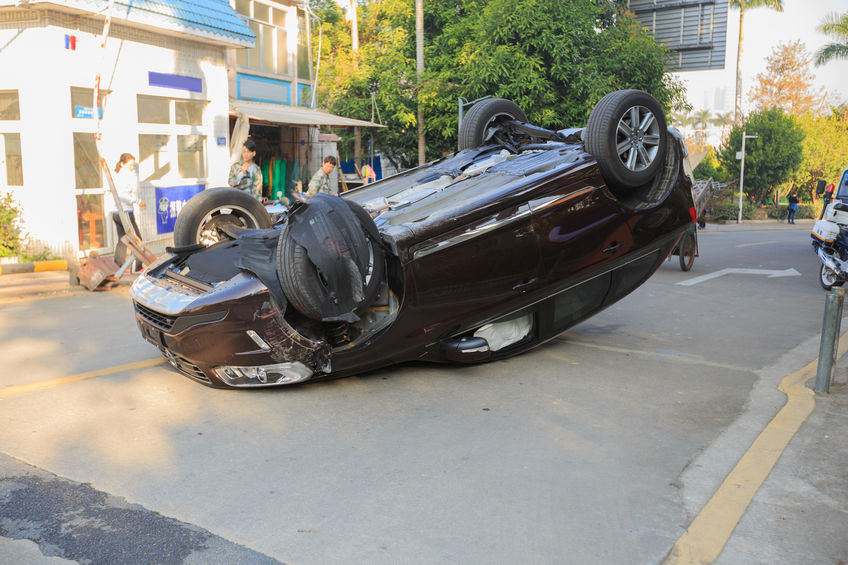 About 18,000 rollover accidents happen each year, making them more common than some may think.
Safercar.gov says rollover accidents are complex crashes and are violent in nature. These crashes involve the interaction between four factors: the driver, road, vehicle, and environment.
Vehicle Type
Tests have shown that SUVs, pickups and vans, which all have higher levels of gravity, are more susceptible to rollover in a single-vehicle crash.
Speed
The National Highway Traffic Safety Administration (NHTSA) reports that 40 percent of fatal rollover crashes involve excessive speeding. Almost ¾ of fatal rollovers took place in areas with posted speed limits of 55 miles per hour or higher.
Alcohol
Half of all fatal rollover crashes involve alcohol. Judgment, muscular coordination, and vision can be negatively affected by any amount of alcohol, according to the NHTSA.
Location
Nearly ¾ of fatal rollovers occur on rural roads with posted speed limits of 55 miles per hour or more.
Routine Driving
According to NHTSA data, over 90 percent of vehicles involved in fatal, single-vehicle rollover crashes were doing routine driving maneuvers, such as going straight or negotiating a curve.
Single-Vehicle Crashes
NHTSA data showed that in nearly 85 percent of single-vehicle rollover fatalities, improper driver behavior played a significant role.
"It is important for drivers to know their vehicles and how they perform under all circumstances in order to help avoid rollover accidents. Should you or a loved one be injured in a rollover accident because of the negligence of another, after seeking medical attention, please call our experienced team of attorneys. We are available to assist you 24/7, and there are no costs or attorney fees unless we receive a monetary recovery for you," said Port Charlotte Personal Injury Lawyer Randall Spivey of Spivey Law Firm, Personal Injury Attorneys, P.A.
Port Charlotte Personal Injury Lawyer Randall L. Spivey is a Board Certified Trial Attorney – the highest recognition for competence bestowed by the Florida Bar and a distinction earned by just one percent (1%) of Florida attorneys.  He has handled over 2,000 personal injury and wrongful death cases throughout Florida.  For a free and confidential consultation to discuss your legal rights, contact  Spivey Law Firm, Personal Injury Attorneys, P.A, in Lee County at 239.337.7483 or toll-free at 1.888.477.4839, or by email to Randall@SpiveyLaw.com.  Visit SpiveyLaw.com for more information.  You can contact Spivey Law Firm, Personal Injury Attorneys, P.A.in Charlotte County at 941.764.7748 and in Collier County at 239.793.7748.