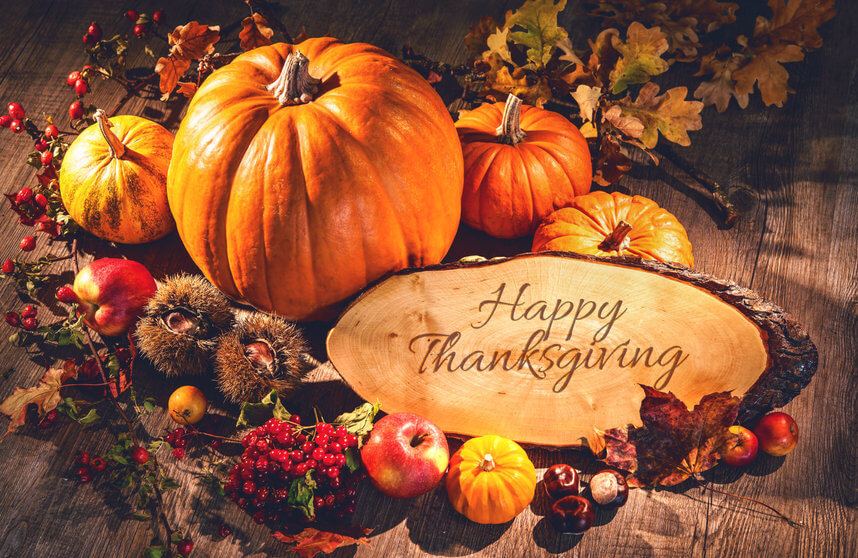 "We at Spivey Law Firm, Personal Injury Attorneys, P.A. wish everyone a happy Thanksgiving weekend and urge everyone to stay safe," said Fort Myers Accident Attorney Randall Spivey.
Thanksgiving is a 4.25-day weekend starting Wednesday evening and ending on Sunday. Even though Thanksgiving weekend 2020 was during the COVID-19 pandemic, the National Safety Council (NSC) estimated 485 people may die on U.S. roadways. NSC said, "Because of the unprecedented impact COVID-19 is having on social activities, the uncertainty of this year's estimate is increased." 
Many families travel across the U.S. by car which has the highest fatality rate of any major form of transportation based on fatalities per passenger mile. The NSC provides the following graph comparison taken from an analysis of the National Highway Traffic Association data of the Thanksgiving Day holiday period and non-holiday periods.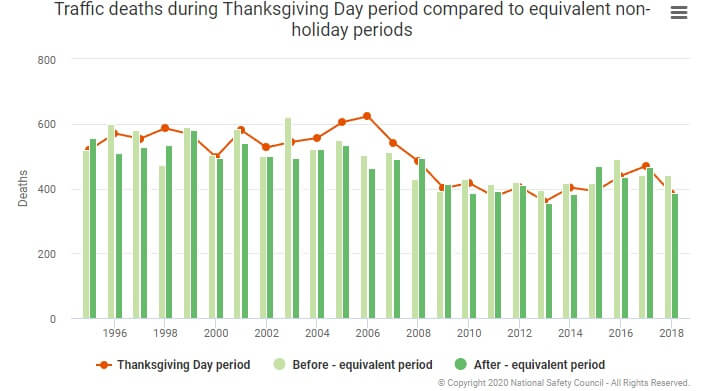 Alcohol consumption is the major contributing factor of vehicle crashes, according to the NSC. Mothers Against Drunk Driving (MADD) offers the following tips for hosts over the Thanksgiving weekend festivities:
Offer plenty of food to keep your guests from drinking on an empty stomach.
Serve Mocktails, non-alcoholic beverages, as a fun and festive alternative for designated drivers.
Follow the laws, and do not offer alcohol to a guest under 21.
As guests leave, confirm their plan for a safe ride either via a designated driver or share-ride like UBER.
Avoid over drinking and over-serving guests. Plan for one drink per hour per guest and buy alcohol accordingly.
Fort Myers Accident Attorney Randall Spivey said, "If you or a loved one is injured in a vehicle accident because of the negligence of another, please contact Spivey Law Firm, Personal Injury Attorneys, P.A. 24/7, after seeking medical attention. We have the experienced personal injury team to assist you, and there are no costs or attorney fees until we receive a monetary recovery for you. Following is what a couple of our clients have to say about working with our legal team:
Mr. Spivey was recommended to us by a friend after getting injured in a car accident. I was very unsure of how the case would go since I had previous medical issues and they reassured me that it wouldn't be a problem. Mr. Spivey and his amazing team (Andrew, Wendy, Melissa, Lucy, and Austen), answered any questions we had and are true professionals. Mr. Spivey far exceeded our expectations with our settlement and hit it out of the ballpark! We are extremely grateful for all of their hard work and highly recommend them to anyone who is looking for a personal injury attorney. – Michelle J.
It is a privilege to write this review. There is no comparison when selecting a personal injury law firm. Spivey Law Firm, Personal Injury Attorneys, P.A. combines empathy, professionalism, and knowledge. I have known this firm for years and have always found the Spivey team to be responsive when needed. Spivey Law Firm is recognized among it peers as truly a "5 - star" law firm, and I for one agree wholeheartedly with them. – Ronald F."
Fort Myers Accident Attorney Randall L. Spivey is a Board-Certified Trial Attorney – the highest recognition for competence bestowed by the Florida Bar and a distinction earned by just one percent (1%) of Florida attorneys.  He has handled over 2,000 personal injury and wrongful death cases throughout Florida.  For a free and confidential consultation to discuss your legal rights, contact Spivey Law Firm, Personal Injury Attorneys, P.A., in Lee County at 239.337.7483 or toll-free at 1.888.477.4839, or by email to Randall@SpiveyLaw.com.  Visit SpiveyLaw.com for more information.  You can contact Spivey Law Firm, Personal Injury Attorneys, P.A. in Charlotte County at 941.764.7748 and in Collier County at 239.793.7748.