Speeding is defined as exceeding the speed limit or driving too fast for the road's conditions. Over 30 percent of all fatal crashes are estimated to be speed-related crashes. This may not seem to be a large percentage, but speeding kills an average of 1,000 Americans every month, according to the National Highway Traffic Safety Administration (NHTSA).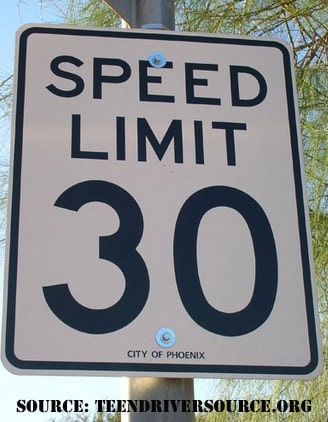 The Governor's Highway Safety Association (GHSA) reports in Speeding and Aggressive Driving - Survey of the States that even though there have been reductions in the overall number of speed-related crashes and fatalities, the proportion of speed-related fatalities that occur on U.S. roadways has remained unchanged over the last quarter century. Almost one-third of all fatalities continue to be speed-related.  
According to the Florida Department of Transportation, 400 tragic fatalities resulted from speed-related crashes, 12 percent of traffic fatalities statewide.
On June 9, 2021, the GHSA issued a press release "Multipronged Anti-Speeding Effort Succeeds in Slowing Traffic". This press release cited an August 2021 Maryland pilot project's success:
"A combination of enforcement, engineering and public outreach successfully reduced speeding during a demonstration project aimed at testing solutions to one of the most persistent road safety problems.
During the pilot project on a rural road in Maryland, average speeds fell 9 percent and the odds that a vehicle on the road was speeding dropped by three-quarters. The effects largely faded once the measures were discontinued.
The multipronged effort on MD 367, a two-lane road in Bishopville on Maryland's Eastern Shore, was supported by a $100,000 grant from the Governors Highway Safety Association (GHSA), the Insurance Institute for Highway Safety (IIHS) and the National Road Safety Foundation (NRSF). The three organizations partnered to fund and evaluate comprehensive speed management pilot programs in one rural and one urban location. An urban project, planned for Virginia, is expected to begin later this year (2021)."
"Road deaths have been climbing, and more than a quarter of them are connected to speeding," says IIHS President David Harkey. "As the study shows, a practical, comprehensive approach to the problem can slow drivers down."
On July 19, 2022, the NHTSA unveiled a new national public outreach campaign addressing the speeding issue with its Speeding Wrecks Lives campaign.
Few Drivers regard speeding as an immediate risk to their safety. An AAA Foundation for Traffic Safety, Traffic Safety Culture Index poll found that respondents agreed that excessive speed was dangerous, and almost 60 percent of the public believed it was not acceptable to drive more than 15 mph over the speed limit on freeways. Despite these professed concerns, 51 percent of those responding to the AAA poll said they had personally exceeded the speed limit on a freeway by more than 15 miles per hour in the previous 30 days.
Speeding increases the stopping distance required to avoid a collision.The major factor in teen crash fatalities is speeding or going too fast for the road conditions according to teendriversource.org sponsored by the Children's Hospital of Philadelphia. Speeding increases the stopping distance required to avoid a collision as it reduces the amount of time a driver needs to avoid a collision (called the 3-second rule). It also increases the likelihood that the crash will result in injury.
The faster you drive-the harder you hit another vehicle, pedestrian or other object in a crash. No matter what type of driver you are or how experienced you are behind the wheel, science dictates that you cannot make your speeding vehicle defy physics.  You will need at least 61 feet and 1.07 seconds to stop a vehicle traveling at 25 mph, and a length of 350 feet (the length of a football field), and 3.2 seconds are required to stop a vehicle traveling at 35 mph. Consider what would happen if you were traveling in a residential area at 35 mph and a pedestrian steps into a crosswalk. By the time you are able to identify the person as a pedestrian, you would be unable to stop in time. Additionally, if you were travelling at 70 mph and stopped abruptly, your body would impact with the dashboard, steering wheel, or windshield at that same speed. (MissouriDrivingUniversity.com)
Speeding also contributes to the increased risk of losing vehicle control.At higher speeds, vehicles are more difficult to maneuver, especially on corners, curves, or where evasive action is necessary.
"Speeding injures and tragically kills men, women, and children every day. Slow down; save lives and prevent injuries. The results of not slowing down can be devastating," says Fort Myers Car Accident Lawyer Randall Spivey of Spivey Law Firm, Personal Injury Attorneys, P.A. Should you or a loved one be injured in a speeding accident because of the negligence of another, contact Spivey Law Firm, Personal Injury Attorneys, P.A. after seeking medical attention. There are no costs or attorney fees until we receive a monetary recovery for you. We are available 24/7 at 239.337.7483, toll-free at 1.888.477.4839, or contact us online at SpiveyLaw.com"