"Knowing when to use headlights, hazard lights, and turn signals may mean the difference between safe and unsafe driving conditions. Not using them correctly and at the appropriate times can cause motor vehicle accidents," says Ft. Myers Auto Accident Attorney Randall Spivey of Spivey Law Firm, Personal Injury Attorneys, P.A. "The following blog reviews various scenarios when lights are appropriate and when they are required by law."
Night Driving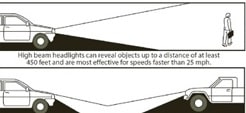 One of the times it is particularly important to use headlights is at dusk or at night. National death rates in vehicle accidents are three times higher at night than during the day, according to the National Safety Council (NSC). Fewer drivers occupy the roads at night. When they do drive at night, depth perception, peripheral vision, and color recognition plummet and weariness begins to weigh on the eyes.
When driving at night, the Florida Drivers' Handbook says drivers must:
Use headlights between the hours of sunset and sunrise.
Not use high beam headlights within 500 feet of an oncoming vehicle; use low beam headlights.
Not use high beam headlights within 300 feet of the vehicle ahead of you; use low beam headlights.
Not drive using only parking lights in place of headlights.
Turn on parking lights at night when you are parked on a roadway or shoulder outside of cities and towns.
The Florida Drivers' Handbook guidelines for driving at night:
Avoid "overdriving" your lights (driving too fast for what you can see).
High beam headlights can reveal objects up to a distance of 450 feet and are most effective for speeds faster than 25mph.
When leaving a brightly lit area, drive slowly until your eyes adjust to the darkness.
Don't look directly at oncoming headlights. Use lane lines as visual guides and look quickly to check the other vehicle's position every few seconds.
Drive as far to the right as you can if a vehicle with one light comes toward you; it could be a vehicle with a missing headlight.
Day Driving
When driving during the day, headlights are often recommended, especially when there is fog or smoke.  At these times visibility may be difficult.  The Florida Department of Transportation recommends "low" not "high" beams under these conditions.
Emergency Hazard Lights
Hazard lights may be a helpful safety feature in some situations, excessively using them can cause confusion for other drivers. There are specific times when hazard lights may be appropriate, some of which are:
Broken down vehicle – If a vehicle breaks down and the driver is waiting by the side of the road for a tow truck, hazard lights are appropriate.
Funeral procession – When driving in a funeral procession, it is appropriate in Florida to turn on flashing hazard lights.
Changing a flat tire – Alerting other motorists that a driver is changing a tire by the side of the road, may be important to increase the vehicle's visibility.
Up until 2021, Florida drivers were not allowed to use hazard lights while driving in the rain. However, on June 29, 2021, Governor Ron DeSantis approved a new Florida law, Chapter No. 2021-188. This law allows Florida motorists to use their hazard lights during periods of heavy rain under limited circumstances. The law was official on July 1, 2021.
The law says Florida drivers may use their hazard lights while driving when there is "extremely low visibility" on the road and the posted speed limit is at least 55 miles per hour. Prior to this change, Florida Statute 316.2397(7) prohibited the use of hazard lights in the rain.
High Beams
Drivers can use high beams at night whenever they are unable to see enough of the road ahead to drive safely. However, they should not be used when within 500 feet of an approaching vehicle.
The Florida CDL Handbook for trucks and buses, recommends they use high beams whenever they can.  Using high beams increases these drivers' ability to see ahead.  Truckers and bus drivers should also turn high beams off when approaching within 500 feet of an approaching vehicle. When conditions become foggy, trucks and buses should pull over. If drivers decide not to, they should slow down, and use low-beam headlights and fog lights for the best visibility during the day. 
Turn Signals
Turn signals are not optional in Florida. They are required by law. Section 316.155 of Florida Statutes sets forth the requirements for when turn signals are to be used. Vehicles turning right or left or are changing lanes must use turn signals at least 100 feet (about the length of six cars bumper to bumper) before turning or changing lanes.
The purpose of turn signals is to let others know a driver's intention to turn. It is too late to turn on signals after a driver has already stepped on the brakes.
The Fort Myers Auto Accident Legal Team Assists Accident Victims
The Fort Myers auto accident legal team at Spivey Law Firm, Personal Injury Attorneys, P.A. has the experience to assist all victims of Florida accidents. We represent people involved in numerous types of personal injury and wrongful death accidents throughout the state of Florida. All of our clients have unique personal injury cases. Our firm provides personal contact and communication along with aggressive representation. We are available 24/7, and there are no costs or attorney fees until we make a monetary recovery for our client. Please contact us at 239.337.7483, toll-free at 1.888.477.4839, or online at SpiveyLaw.com.